Likening People to Hitler Suddenly OK Again At WND (When It's Not Trump, Anyway)
Topic: WorldNetDaily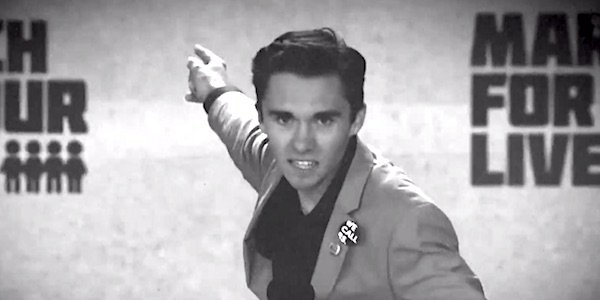 As we've documented, WorldNetDaily had no problem with likening people to Hitler -- especially President Obama. Then people started likening Donald Trump to Hitler, and WND got offended.
But now, people have shifted back to going Godwin on people who aren't Trump, and WND is totally cool with that, not seeing the offense in it at all and complaining when others find it offensive.
See how Bob Unruh dismisses the insult of a Parkland shooting survivor in a March 27 article:
Hitler's rants, once instilling fear, have become a source of humor in today's world. Overdubs of his shrieks have been used to make fun of Obamacare, Sen. Ted Cruz and more.

But YouTube believes that one such parody, using Hitler's voice and the image of anti-gun activist and student David Hogg at last weekend's anti-gun rally in Washington, could be a problem.

On its site, it has posted the warning, "The following content has been identified by the YouTube community as inappropriate or offensive to some audiences."

People must click "I understand and wish to proceed" to view it.

Liberty Headlines explains the parody was posted by "MAGA3D," who converted the footage of Hogg's speech in D.C. "into a black-and-white grainy imagery, with the sound of a 1930s-era film projector in the background, and the impassioned speech of the German fuhrer roughly matching up to Hogg's lip movements."

The report noted "much harsher and edgier content is all over YouTube without such warnings."
So if a non-conservative is likened to Hitler, it's a "parody" and a joke. But if someone likens Trump to Hilter, it's offensive. Got it.
That Liberty Headlines website, by the way, is not a real news website -- it's a clickbait aggregator with most of its articles attributted to "Editor" and "Admin." A few articles have actual names attached to them; it appears they work elsewhere and are falsely portrayed as Liberty Headlines employees.
Posted by Terry K. at 1:44 AM EDT