MRC Parrots Trump Talking Point As 'Real Reason' McCabe Was Fired
Topic: Media Research Center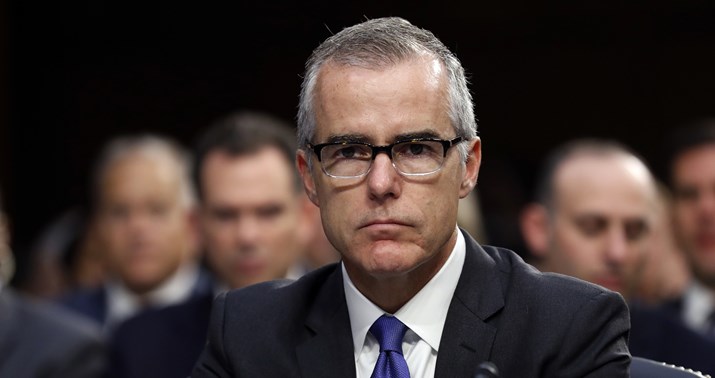 The Media Research Center's Nicholas Fondacaro serves as a fine Trump administration apparatchik in a March 18 post:
In the wake of the former Deputy Director Andrew McCabe's firing from the FBI for misleading Inspector General investigators, the liberal media were rife with misinformation of their own. During the Sunday morning news programs, NBC's Chuck Todd misled their viewers on why McCabe was fired and ABC's George Stephanopoulos lied about the messages sent by pro-Hillary Clinton FBI agents investigating her and President Trump.

According to Todd's warped retelling of Friday's firing, and the events leading up to it, President Trump and conservative media were to blame for McCabe getting canned by Attorney General Jeff Sessions:

What I would say is this, I think the fact that how the President made the McCabe firing happen, I mean, it is an extraordinary -- if you go back 18 months, the systemic campaign against McCabe to delegitimize him to raise questions about him, to a deputy FBI director that nobody had ever heard of and the president using his bully pulpit to do that.

Of course, the real reason McCabe was fired was that he leaked information about an investigation to the press he wasn't supposed to and then lied to investigators about it.

Of course, Fondacaro doesn't actuallyknow the "real reason" McCabe was fired -- he's merely repeating the stated reason as forwarded by the Trump administrationn.
In fact, the report on McCabe by the Justice Department's inspector general has never been released -- only parts damaging to McCabe have leaked out. McCabe has since denied that he lied to investigators, and it's unclear whether he actually "wasn't supposed to" release information.
But never mind any of that -- or the fact that McCabe had, in fact, been the victim of a months-long right-wing delegitimization campaign. Fondacaro and his MRC colleagues have a Trump talking point to push:
Hopefully the Trump White House is paying the MRC well for all this water-carrying they're doing.
Posted by Terry K. at 10:36 PM EDT