MRC Attacks Olympic Skater For Being Gay, Criticizing VP Pence
Topic: Media Research Center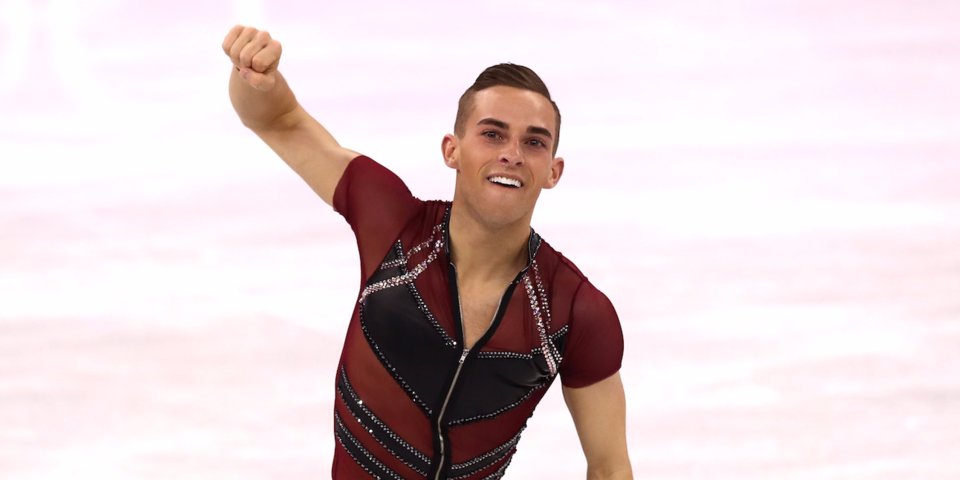 The Media Research Center doesn't like Olympic skater Adam Rippon for two specific reasons: 1) he's gay, and 2) he has criticized Vice President Mike Pence for what can reasonably be interpreted as his endorsement of the discredited practice of gay conversion therapy.
In a Jan. 17 post, Jay Maxson whined that USA Today did an article on Rippon, "a gay figure skater who's angry that Vice-president Mike Pence will lead Team USA in the opening ceremonies.Maxson even tried to defend the discredited practice: "Forty-one states permit conversion therapy for people struggling with unwanted same-sex attraction, but [USA Today reporter Christine] Brennan tried to portray the VP as a pariah for supporting their choice."
On Feb. 8, Gabriel Hays hufffed about the Rippon-Pence contretemps: "More controversy has erupted between Mike Pence and another openly gay U.S. athlete at this winter's Olympic games, all in the name of tolerance and homosexual acceptance. It's one small step for gays, and one giant, exasperated 'Oh, shut up!' for the rest of normal America." Hays is not telling Pence to shut up, by the way; he uncritically repeated an overly forceful denial from Pence's press secretary that Pence ever supported conversion therapy.
On Feb. 11, Brad Wilmouth was offended that "The View" co-host Whoopi Goldberg likened a Rippon-Pence meeting to "asking a Jewish person to sit down and understand where the Nazi is coming from."
The next day, Kristine Marsh grumbled that through the mere act of interviewing Rippon, "ABC anchor Amy Robach tried to bring left-wing activism into her coverage of the Winter Olympic Games."
Maxon returned to attack Rippon some more in a Feb. 13 post, complaining that one writer "chastised the Vice President for the controversy over homosexual figure skater Adam Rippon, who is using the media to advocate against conversion therapy. It's a favorite target of the LGBT pressure groups and their compliant media. Rippon and his media friends, including Phillips and a group of writers at USA "LGBT" Today, are portraying Pence as the champion of this therapy, which nine liberal states have outlawed."
Maxson whined some more the next day that "LGBT athletes and supportive media have used the Olympic stage to advocate against conversion therapy through attacks on Vice-president Pence as well," adding:
Somehow in the era of Trump and Pence the United States is fielding its most diverse Winter Olympic squad ever. Pre-dating these Olympic Games, it's been a steady media drumbeat on race and gender. Anyone perceived to oppose LGBT policy positions is taken down by LGBT groups and the left-stream media. Fear of them has largely eliminated public opposition. Tolerance is no longer enough, and now [Washington Post columnist Jerry] Brewer demands we celebrate homosexuality[.]
And the news that Rippon had (briefly) signed on with NBC Sports to help cover the Olympics sent Matt Philbin in an apoplectic anti-gay fit:
NBC Winter Olympics coverage may be tanking in the ratings, and taking fire for sloppy broadcasting, but the Peacock is reluctant to let go of the Gayest Games Ever™. The network just announced it has hired Adam Rippon to as a correspondent for the remainder of the Olympics. He will "work for the network on a variety of platforms, including television, digital and social media."

Rippon's a gold medal-winning Olympic figure skater, but that's not really his allure for NBC. The network is just hoping he'll say something sassy or spidery and generate some buzz for an event that feels as though it's been going on for about five months. Rippon is gay, outspoken and (best of all!) spiteful toward Vice President Mike Pence.

[...]

You might have thought NBC had maxed out it's gay skating coverage quotient, as the Mean Girls act of Tara Lipinski and Johnny Weir is the toast of enlightened media critics everywhere. But Rippon's star dust is just too magical to pass up. The media can't decide whether he's a "Perfect Millennial Ambassador for US Figure Skating" or just a simple "Gay Rights Ambassador." And really, why choose?

NBC and the rest of the media are embarrassing themselves with this swoon, and once again proving that satire is dead. As for Rippon, he'll get every last bit of hype out of this moment. After all, it's what Brian Boitano would do.
And hating gays for existing is pretty much what the MRC does.
Posted by Terry K. at 12:11 AM EST