CNS Turns Single Question to Pompeo Into Two Articles
Topic: CNSNews.com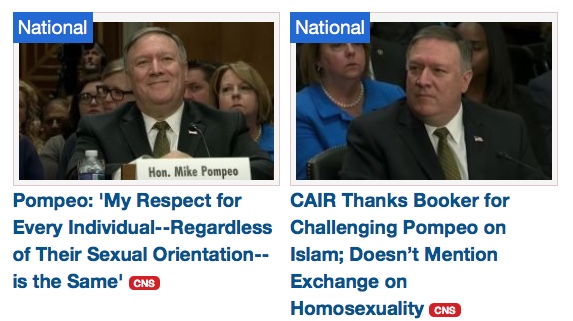 CNSNews.com typically ignores a lot of news, particularly when it doesn't advance its right-wing agenda. Yet when it wants to, it can give a ridiculous amount of focus on a single thing.
And so it goes with a question to Mike Pompeo during his confirmation hearing to be secretary of state, as asked by Sen. Cory Booker, on whether Pompeo thought that gay sex was a "perversion." CNS reporter Patrick Goodenough managed to squeeze two entire articles out of this single question.
The first focused on the question itself. Goodenough admitted that "did not answer directly when asked several times by Booker" about the issue, then explained that the question derived from a speech Pompeo gave at a church in which he quoted a partisan prayer claiming that "We have endorsed perversion and called it an alternative lifestyle." Goodenough touted how the so-called prayer was also read in state egislatures and had been "read out on radio stations and from pulpits across America. He then reproduced the entire "prayer," which also claimed that "We have worshipped other gods and called it multi-culturalism" and "We have rewarded laziness and called it welfare."
The second article by Goodenough was a political attack, bashing the Council on American-Islamic Relations for praising Booker over the question by noting a decade-old statement by a lower-level CAIR official criticizing homosexuality (but not explaining that it's really no different that how his boss, Michael W. Chapman, feels about it). He also wrote that "Islamic doctrine frowns on homosexuality" and that "countries where the death penalty for homosexuality is applied or codified in law are all Islamic."
These are literally the only two original articles CNS generated on Pompeo's confirmation hearing -- both focused on a single question.
Goodenough later followed up with an article on CAIR's opposition to Pompeo's nomination, complaining that CAIR "was thrilled when Democrats on the Senate panel grilled Pompeo last week over his views on Islam." He did not similarly note what lines of questioning from Republican members of Congress "thrilled" conservative boosters.
Posted by Terry K. at 12:06 PM EDT