Ilana Mercer's Back At WND, Still Standing Up For White People
Topic: WorldNetDaily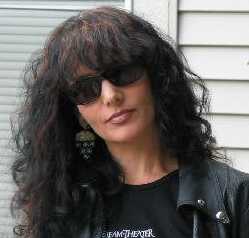 After more than a year away, Ilana Mercer -- the South African expat who's still pining for apartheid -- returned last fall as a WorldNetDaily columnist. She's behaving as usual; a November column fretted about the overstated fear of black on white violence in the country and asserted that South Africa "was the creation of British and Dutch settlers and their descendants" and the black majority currently running the country are "dismantling it." She further lamented that "Empowering political majorities in Africa has helped, not hindered, the propensity of hostile masses to exact revenge on helpless minorities."
Mercer also stated that "Like South Africa, America is a creation of (northwest) European settlers," bringing her racial philosophy to this country. She furthers that in her April 19 column fretting about the decline of whites in America and blaming on all those brown people:
If white lives mattered at all to the liberal establishment, an inquiry would ensue:

Is it possible that an enormous influx of legal and illegal migrants over decades is playing a role in the decline of America's founding population? (A similar, sad fate was visited on their predecessors, the Amerindians.)

On the one hand, we have the drastic, ongoing decline of America's white population; on the other, a massive, incessant inpouring of minority immigrants, since 1965. A correlation between the two is not impossible.

[...]

Declining birthrates have long been the excuse advanced by immigration central-planners for sticking with mass immigration policies. The aging white population is not replacing itself, say proponents of doomsday demographics. Young, Third World immigrants are essential to shore-up the welfare state.

However, the now-waning West became great not because it was more populated than the rest of the world and outbred it. The West was great because of its human capital – innovation, exploration, science, philosophy; because of superior ideas and the willingness to defend such a civilization.

America doesn't need more people; it needs to allow its own people to recover.
Yep, the same ol' Ilana.
Posted by Terry K. at 9:17 PM EDT