CNS Frowns On GOP Budget Trump Signed
Topic: CNSNews.com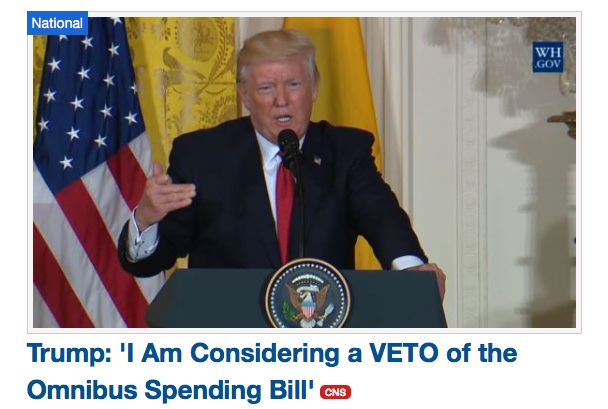 CNSNews.com is normally a reliable pro-Trump lackey, but once in a while, it will throw some shade Trump's way if he strays from the CNS right-wing agenda. Most recently, CNS was upset at the Republican-generated omnibus spending bill that Trump signed.
Susan Jones lamented of the bill that "while there is much in it for Democrats to like, there is much for conservatives to oppose, as Republicans ignore campaign promises to limit spending and grow government instead." Jones also complained that the budget included money for a new tunnel between New Jersey and New York City because it is "the pet project of New York-area Democrats, including Senate Minority Leader Chuck Schumer," even though Trump campaigned in part on rebuilding America's infrastructure.
CNS editor in chief Terry Jeffrey huffed that "Members of the House of Representatives had 1,000 minutes—overnight—to read a 2,232-page bill that spends $1.3 trillion." Jeffrey downplayed the fact that it was a Republican-generated bill. In a later article, Jones seemed unhappy that "Trump seemed OK about getting only a fraction of the $25 billion he was promised to build a wall on a southern border."
When Trump tweeted that he might veto the bill, Jones was absolutely giddy, touting the "curve ball to Congress." When Trump did sign out, though, Melanie Arter's article on it sounded disappointed at first, but she soon fell into her usual pro-Trump stenography, allowing him to spin the signing away.
But then Trump did something CNS liked, and things were back to normal.
Posted by Terry K. at 10:10 PM EDT
Updated: Thursday, April 12, 2018 10:12 PM EDT