WND Takes DNC's Birther Bait Again
Topic: WorldNetDaily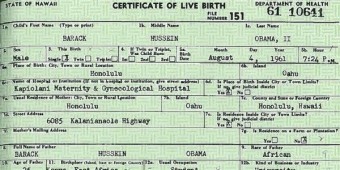 Art Moore begins his July 27 WorldNetDaily article by stating, "It appears the Obama family just can't get birth certificates out of their heads." Actually, it's WND who has that problem.
For the second time this week, WND took the bait on a oblique reference to birthers by a member of the Obama family at the Democratic National Convention in order to rehash its discredited "eligibility" conspiracy theories. And Moore goes full-bore on it:
Dozens of lawsuits were filed over that issue before and after Obama's election in 2008, and, after pressure from Donald Trump and others, the White House ultimately released a document he said was his Hawaiian birth certificate.

The only law-enforcement investigation of the issue, conducted by Arizona sheriff Joe Arpaio, concluded the document is likely a forgery.

Ironically, it was Hillary Clinton who began the whole "birther" controversy by questioning Obama's eligibility during the hotly contested 2008 Democratic race against Obama.

It's not just Obama's birth certificate that's in doubt, but he also mysteriously has a Connecticut-based Social Security Number, despite the fact neither he nor his parents ever lived in the Constitution State.
As we've noted, that "only law-enforcement investigation of the issue" was a corrupt sham, with Arpaio's "cold case posse" populated with the like of biurther conspiracists like WND's own Jerome Corsi.
And, no, Hillary Clinton did not "begin the whole "birther" controversy by questioning Obama's eligibility." As CNN and others have documented, the 2008 Clinton campaign did not pursue the issue, though diehard supporters filed the first lawsuits on the issue. The one organization that pursued the birther issue to ludicrous extents and beyond was the definitely-not-supported-by-Hillary WND -- which, of course, Kovacs fails to mention.
As for Obama's supposedly fraudulent Social Security number, the most logical explanation is that Obama's return address was mistyped, the initial "9" typed as a "0" which would turn a Hawaiian zip code into one from Connecticut.
For an organization that (currently) insists the birther issue ended in "late 2011," WND sure likes to keep talking about it -- and taking the bait when Democrats bring it up.
Posted by Terry K. at 3:01 PM EDT