CNS Buries Story of Melania Trump's Plagiarism
Topic: CNSNews.com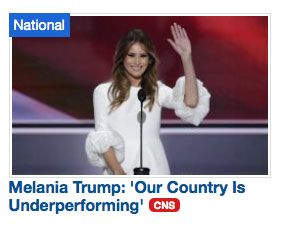 CNSNews.com did do some original reporting on the Melania Trump plagiarism controversy, but you wouldn't know it from looking at the CNS front page.
The headline on Susan Jones' story reads "Melania Trump: 'Our Country Is Underperforming'" and it begins with sycophantic slobbering over the speech:
In her well-received speech to the Republican National Convention Monday night, Melania Trump promised that the presidential race "will be hard fought all the way to November. There will be good times and hard times and unexpected turns. It would not be a Trump contest without excitement and drama," she added with a smile.
It's not until the second paragraph that Jones got around to noting that "The drama exploded shortly after Mrs. Trump left the stage, as accusations of plagiarism swirled around two passages in her speech, copied almost word for word from a speech delivered to the Democratic National Convention in 2008 by Michelle Obama."
But after noting that "Those similarities, played side-by-side on televisions across America on Tuesday morning, are noted below," Jones returned to stenography mode, explaining how "the heart of Melania's speech centered on her husband's love of family and country -- and how he will deliver the change that he says the country needs."
That was apparently more important to Jones than the details of Melania's apparent plagiarism, complete with a quote from the Trump campaign that avoided addressing the issue at hand.
Later, an update was added to the top of Jones' article in italics that uncritically transcribed Trump campaign chairman Paul Manafort's nonsensical denial plagiarism took place. But the plagiarism-avoiding headline remains.
Meanwhile, over at CNS parent the Media Research Center, they're trying to dismiss the story entirely by complaining that it's being covered, calling the coverage a "feeding frenzy" and grumbling that "In contrast, ABC, CBS, NBC and FNC during these hours collectively provided a mere 1 minute, 48 seconds of coverage to Pat Smith's emotional speech condemning Hillary Clinton's inept handling of Benghazi." It took seven MRC employees to register that complaint: authors Mike Ciandella and Rich Noyes and five others doing research.
Posted by Terry K. at 5:01 PM EDT