Dear CNS: Obama is Right, World Is Less Violent Than Ever
Topic: CNSNews.com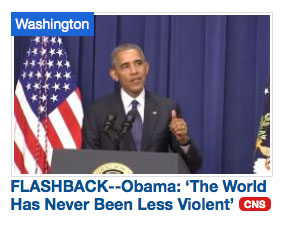 On July 21, CNSNews.com published an unbylined article headlined "Obama: 'The World Has Never Been Less Violent'." It's another bit of lazy stenography, cribbing from a speech in which Obama said that "we are living in the most peaceful" era in human history and that "the world has never been less violent."
The powers that be at CNS are apparently going to trot that article out every time there's a terrorist attack or some other form of mass violence. CNS put it back on the front page earlier this week following terrorist attacks in Europe and adding "FLASHBACK" to the headline, though the "flashback" was to about one week ago.
But CNS won't tell its readers that Obama is pretty much correct. The World Economic Forum reports:
Last year may be remembered for barrel bombs, beheadings and the Bataclan massacre, but according to a Harvard psychologist, a remarkable long term downward trend in violence is continuing.

Wars are far less common and deadly than in the recent past, terrorism is rare, and the European refugee crisis is nothing new, said Steven Pinker, a bestselling science author.

"The news is a systematically misleading way to understand the world," he told the Thomson Reuters Foundation in an interview.

In the past five years alone, conflicts have ended in Chad, Peru, Iran, India, Sri Lanka and Angola, and if peace talks currently underway in Colombia are a success, war will have vanished from the Western hemisphere, he said.

In his 2011 book "The Better Angels of Our Nature," Pinker called the decline in violence "the most significant and least appreciated development in the history of our species".

Compared to most of the postwar period, 2015 has been relatively peaceful, and dramatically so compared with earlier centuries. However, there has been a small uptick in violent deaths around the world over the past couple of years.
Pinker expanded on his view of the downward trend in world violence in an article at Slate:
The world is not falling apart. The kinds of violence to which most people are vulnerable—homicide, rape, battering, child abuse—have been in steady decline in most of the world. Autocracy is giving way to democracy. Wars between states—by far the most destructive of all conflicts—are all but obsolete. The increase in the number and deadliness of civil wars since 2010 is circumscribed, puny in comparison with the decline that preceded it, and unlikely to escalate.

[...]

Too much of our impression of the world comes from a misleading formula of journalistic narration. Reporters give lavish coverage to gun bursts, explosions, and viral videos, oblivious to how representative they are and apparently innocent of the fact that many were contrived as journalist bait. Then come sound bites from "experts" with vested interests in maximizing the impression of mayhem: generals, politicians, security officials, moral activists. The talking heads on cable news filibuster about the event, desperately hoping to avoid dead air. Newspaper columnists instruct their readers on what emotions to feel.

There is a better way to understand the world. Commentators can brush up their history—not by rummaging through Bartlett's for a quote from Clausewitz, but by recounting the events of the recent past that put the events of the present in an intelligible context. And they could consult the analyses of quantitative datasets on violence that are now just a few clicks away.
CNS would never do that -- it's so much easier to push its right-wing agenda with misleading information.
Posted by Terry K. at 10:48 AM EDT