CNS' Reaction to Hillary's Historic Nomination: Benghazi!
Topic: CNSNews.com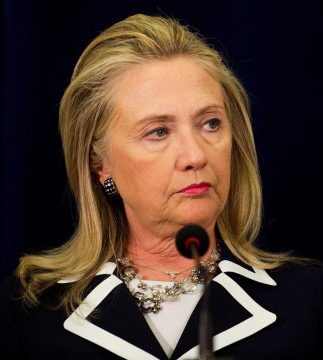 CNSNews.com reacted to the historic news of Hillary Clinton being the first female major-party presidential nominee in its usual fashion: with partisan sniping instead of the fair and balanced journalism a real news operation is supposed to engage in.
The news of Democratic National Convention delegates affirming the nomination was mostly ignored by CNS, which ran only an Associated Press article and devoted no original coverage to it.
CNS did devote some original coverage to Clinton's acceptance speech, but in its own bizarre stenographical way. Two articles focused extremely narrowly on two statements she made: "Hillary Clinton: 'I'm Not Here to Take Away Your Guns'" and "Clinton on Illegal Immigrants: 'Inhumane to Kick Them Out'." That's lazy reporting at its finest.
The day after the convention, though, CNS issued its mostly politically driven -- and, thus, journalistically suspect -- reaction: a story by Rachel Hoover describing how "In their 'Additional Views' supplement to the House Select Committee on Benghazi report, Reps. Jim Jordan (R-Ohio) and Mike Pompeo (R-Kansas) conclude that 'the administration misled the public about the Benghazi attack,' which occurred on Sept. 11, 2012."
If you'll recall, the House Benghazi report came out a month ago. A month ago. In other words, there is no news value to Hoover's article -- it's a month-old story that CNS could have easily done at the time but apparently chose not to in order to play a political game.
Additionally, the fact that Jordan's and Pompeo's views are relegated to a supplement and not included in the report proper tells us that they were rejected by the Republican majority and should carry less weight. Indeed, the Jordan-Pompeo supplement appears to rely heavily on opinion, not fact, for its conclusions, such as its assertion that the Obama White House "misled the American people for political gain" immediately after the attack.
But Hoover also violates the dicate of her boss, Media Research Center chief Brent Bozell, who says that "The first rule of journalism is that if you don't have two independent sources, you don't have a news story." Hoover quotes only the Jordan-Pompeo supplement -- which is anything but "independent" -- and nobody else.
CNS hasn't figured out that stenography is not journalism, and uncritically repeating partisan attacks isn't either, and not even Bozell's own guidance is making a difference.
Posted by Terry K. at 11:05 AM EDT