CNS Buries News of Trump Inviting Russia To Hack Hillary's Emails
Topic: CNSNews.com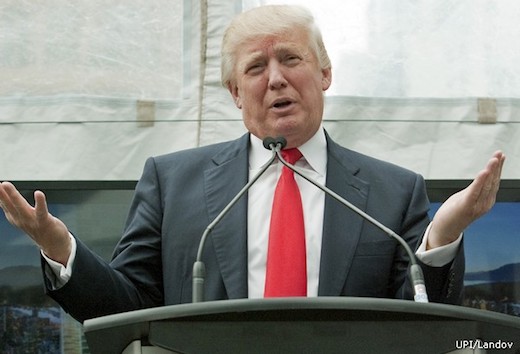 You'd think a presidential candidate inviting a foreign power to hack the email accounts of Americans would be big news at CNSNews.com, which purports to care a lot about national security.
But that candidate is Republican Donald Trump, so it wasn't.
CNS' initial article on the press conference in which Trump said he wished for Russia to hack Hillary Clinton's email, by Melanie Hunter, failed to even mention that he said it. Hunter began her article instead with Trump's statement that "he never met Russian President Vladimir Putin but as president, he would rather be 'friendly' with Russia so both countries 'can go and knock out ISIS together' along with other allies."
Hunter was in stenography mode, as most CNS reporters are when writing about Trump, and therefore she couldn't be bothered to note that Trump previously claimed he has spoken "directly and indirectly" with Putin.
Patrick Goodenough featured Trump's press conference in an article the next day -- but didn't mention the hacking invitation. Instead, he touted how "One day after Republican Donald Trump warned that China and Russia 'have never been closer,' China's military announced on Thursday it will hold joint exercises with Russian forces in the South China Sea."
Goodenough wrote an accompanying article that showed him in full spin mode, claiing that "The Russian government may soon release texts of emails hacked from Hillary Clinton's private server during her time as secretary of state, a respected geopolitical affairs publication reported last month, citing Western intelligence sources." It wasn't until the 13th paragraph of his article that he noted Trump's invitation to Russia to hack Hillary's email, then immediately noted Trump ally Newt Gingrich's baseless assertion that Trump was making a "joke."
It wasn't until a full day later that CNS gave the hacking invitation a bit more prominence, in an article by Susan Jones -- but she, like Goodenough, spun Trump's words in a way to bury the whole treasonous aspect of it:
"It's just a total deflection, this whole thing with Russia," Donald Trump told a news conference on Wednesday.

"In fact, I saw her (Hillary Clinton's) campaign manager -- I don't know his title, Mook. I saw him on television and they asked him about Russia and the (DNC) hacking. By the way, they hacked -- they probably have her 33,000 e-mails. I hope they do. They probably have her 33,000 e-mails that she lost and deleted because you'd see some beauties there."

Trump repeated several times that it may not be Russia who hacked the DNC: "Nobody even knows this, it's probably China, or it could be somebody sitting in his bed. But it shows how weak we are, it shows how disrespected we are."

After telling the news conference that Russia -- or somebody -- probably already has Hillary Clinton's deleted emails, a reporter later returned to the subject, asking Trump why he doesn't tell Russian President Vladimir Puting to stop interfering with the U.S. presidential campaign.

"I have nothing to do with Putin. I've never spoken to him. I don't know anything about him other than he will respect me. He doesn't respect our president.

"And if it is Russia -- which it's probably not, nobody knows who it is -- but if it is Russia, it's really bad for a different reason, because it shows how little respect they have for our country, when they would hack into a major party and get everything.

"But it would be interesting to see -- I will tell you this. Russia, if you're listening, I hope you're able to find the 30,000 e-mails that are missing. I think you will probably be rewarded mightily by our press. Let's see if that happens. That'll be next."

A short time later, Trump repeated that nobody knows if the Russians were the ones who hacked into the DNC: "You know (what) the sad thing is? That with the technology and the genius we have in this country, not in government unfortunately, but with the genius we have in government, we don't even know who took the Democratic National Committee e-mails. We don't even know who it is."

Trump also said it's not about the hackers anyway: "It was about the things that were said in those emails. They were terrible things, talking about Jewish, talking about race, talking about atheist, trying to pin labels on people -- what was said was a disgrace, and it was Debbie Wasserman Schultz, and believe me, as sure as you're sitting there, Hillary Clinton knew about it. She knew everything."
Not only did Jones failed to mention the bipartisan criticism of Trump's remarks, she referred to something she called the "Democrat National Convention."That's not a mistake -- right-wingers have maliciously switched "Democratic" for "Democrat" for years.
Jones' commitment to partisan posturing over something as basic as getting names correct tells us what a hack she is -- and the lack of journalistic seriousness of her employer.
UPDATE: A July 29 article by Goodenough on Joe Biden referring to Russian premier Vladimir Putin as a "dictator" waits until the very end to note Trump's hacking invitation to Russia, but then added, "Trump later characterized the comments as sarcasm."
This means that CNS has yet to make Trump's hacking invitation the primary focus of any article. And this is a "news" operation?
Posted by Terry K. at 12:15 AM EDT
Updated: Friday, July 29, 2016 8:54 AM EDT