MRC Getting Into The Right-Wing-Screed Business
Topic: Media Research Center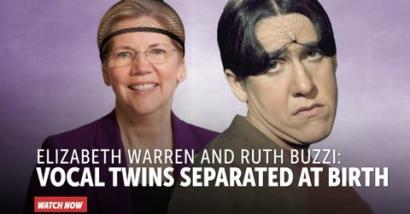 The Media Research Center seems to be getting further and further away from all that "media research" stuff (not that they're all that good at it) and is moving toward hateful right-wing screeds. The MRC has been into these in the past month.
For example, P.J. Gladnick sneered in a June 10 post:
When you hear Elizabeth Warren loudly ranting about Donald Trump do her screechings sound vaguely familiar? Perhaps you were sure you heard someone like that in the past but you can't quite put your finger on it. Well, a recent caller to the Laura Ingraham radio show, Mark from Virginia, finally lifted the veil on that maddening ​mystery when he revealed that Warren was an almost exact vocal twin of the Ruth Buzzi's bag lady character of many eons ago on the Laugh-In television comedy show.

Aha! Now it is clear to you. Of course. And if you doubt the very similar vocal patterns, listen to this clip of Laura Ingraham comparing Elizabeth Warren's rants with those of Ruth Buzzi. They are eerily similar in both voice and attitude.
MRC VP Dan Gainor wrote a post titled "6 Radical, Crazy, Insane, Nutball, Liberal Things," declaring that "Tracking liberal insanity is like playing Whack-A-Mole only instead of pesky moles, you get to bash bizarro lefties." Again, not exactly forwarding the whole "media research" thing.
And Maggie McKneely made her hate clear in the headline of her NewsBusters post: "Make it Stop: Media Hype FLOTUS Snapchatting and Carpool Karaoke." Yes, McKneely is all bent out of shape because Michelle Obama is doing a "Carpool Karaoke" segment with James Corden. No, really:
Corden is undoubtedly a fan of his next guest, but First Lady Michelle Obama is an unconventional choice because she has no original songs. Maybe they can sing Fifth Harmony's tribute to the FLOTUS.

To announce the upcoming appearance, Obama joined the world of Snapchat. Although she's only used the app for a day, the ever-worshipful media has already dubbed her the "Snapqueen." Cosmo, though, just prefers to call her their "Queen" in general.

[...]

Michelle Obama was already the most televised first lady in history, appearing on everything from Jimmy Kimmel to NCIS to even Nickelodeon. But considering Hillary Clinton has had a snapchat account for almost a year, Obama has been surprisingly slow to join the bandwagon. And since 71% of its users are under 25 years old, there's no better way to reach the college-age demographic.

Snapchat's appeal to its users is that everything that gets posted disappears forever after 24 hours, no matter how dumb and ridiculous it was. What better way to advertise karaoke?
Again, this is all over Michelle Obama doing a harmless bit of TV. What is McKneely's problem?
UPDATE: Gladnick strikes again in a July 12 post, having apparently decided that Hillary Clinton is the Manchurian candidate:
Raymond Shaw is the kindest, bravest, warmest, most wonderful human being I've ever known in my life.

Anybody who ever saw the movie The Manchurian Candidate would have quickly thought it rather odd that every soldier captured in Korea with Raymond Shaw gave identical answers when asked to describe him. However, when associates of Hillary used identical answers to describe her, Ezra Klein of Vox seems not to notice anything strange there. Here is Ezra making the observation about those identical (robotic?) descriptions without the least hint of curiosity as to the Manchurian Candidate quality about them:

The answers startled me in their consistency. Every single person brought up, in some way or another, the exact same quality they feel leads Clinton to excel in governance and struggle in campaigns. On the one hand, that makes my job as a reporter easy. There actually is an answer to the question. On the other hand, it makes my job as a writer harder: It isn't a very satisfying answer to the question, at least not when you first hear it.

Hillary Clinton, they said over and over again, listens.

Hillary Clinton is the kindest, bravest, warmest, most wonderful listener I have ever known in my life.

And to make sure you know she is a good listener, Klein repeats "listen," listens," and "listener" 41 times in his shill Hill piece. Whenever the Red Queen flashes by, we get this response:

[...]

Except Klein did not question why every single person associated with Hillary gave that same Manchurian Candidatish "listen" answer. A skeptical mind would suspect that it was a mandatory talking point Hillary description answer handed down from on high. Instead, Klein went on to unsubtly press that "listen" shtick over and over again much like 1950s TV commercials pitching aspirin products by showing a cartoon hammer pounding repetitively against a skull:

[...]

Agghhhh!!! Enough already, Ezra! You've pounded that Hillary "listen" bit so relentlessly against my skull that now I need an aspirin.

Exit question: If I flash the Red Queen in front of Ezra Klein and make a certain demand, would he jump into a vat of Kool Aid along with his fellow Hillary-enabling JournoLists?
So when Obama stop being the Manchurian candidate (or president)? Gladnick should ask Aaron Klein about that.
Posted by Terry K. at 6:46 PM EDT
Updated: Tuesday, July 12, 2016 9:38 PM EDT