Will Joseph Farah Repent His Sins Today?
Topic: WorldNetDaily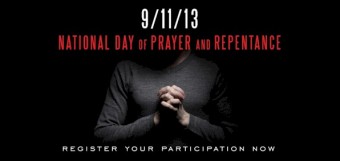 We've documented how Joseph Farah has been promoting his Sept. 11 "National Day of Prayer and Repentence" without any sign of him offering to repent for his many sins committed against President Obama.
Now, that day has arrived. Has he changed his mind about repentence? So far, no.
Farah's new column promoting his little "Day of Prayer and Repentence" includes a lot of blather, a lot of referencing ofBible verses, but no sign he will do any personal repenting:
Since making that heartfelt cry, I have been surprised by the number of American believers who have questioned whether my citation of 2 Chronicles 7:14 as the inspiration for this day is truly for our time and for our nation.

For those of you not familiar with the verse, it reflects God's warning to Solomon following the dedication of the Temple and says, "If my people, which are called by my name, shall humble themselves, and pray, and seek my face, and turn from their wicked ways; then will I hear from heaven, and will forgive their sin, and will heal their land."

[...]

Do we want to continue down the road of judgment that began, as Rabbi Jonathan Cahn has shown in "The Harbinger" and "The Isaiah 9:10 Judgment," 12 years ago on this day?

Do we want to let nature take its course or rely on the wisdom of men to pull American out of the moral and spiritual gutter into which it has descended?

Or do we want to follow God's prescription for renewal?

No amount of politicking could ever have more impact.

No amount of witty argumentation could ever have more impact.

No amount of hand-wringing could ever have more impact.

Today is that day.

It's a promise specifically for all believers – "His people."

It's a promise for all times.

It's a promise for all nations.

And it's a promise for American believers today.
If Farah really was being as "heartfelt" as he claims he is, why won't he repent for his years of hatred and lies directed at Obama and beg him for the same kind of forgiveness he seeks from God?
Farah can't possibly be ignorant of his hurtful deeds. And as he offers repentence to God so that our land may be healed, he should be offering repentence to Obama so his damaged, amoral soul can be healed.
Without that repentence, we can expect the same toxic stream of hate to flow from WND as it has for the past five years -- and a continued dwindling of WND's audience to just the people who hate Obama and love conspiracy theories as much as Farah does.
Farah has brought this situation on himself. Does he have the faith and fortitude to make things right, or will he continue to reside in his sewer of filth and hate?
Posted by Terry K. at 12:41 AM EDT