WND Perpetuates Myths About Homeschooling Case
Topic: WorldNetDaily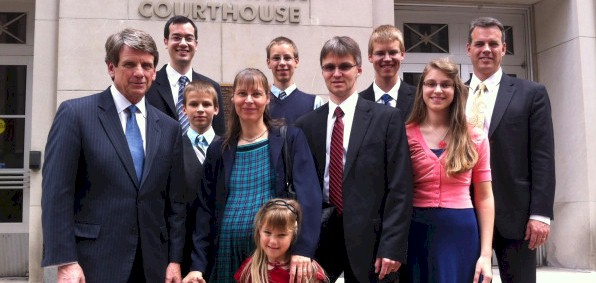 Bob Unruh uses a July 2 WorldNetDaily article to shill for the Romeike family, a German family that has sought asylum in the United States by claiming persecution in Germany for wanting to homeschool their children, which is illegal there.
Unruh uncritically repeats the claim that "The Romeikes withdrew their children from German schools over teachings on sex, violence and other issues that conflicted with their Christian faith." But public schools are not the only option the Romeikes have -- according to the New York Times, the Romeikes have also rejected private and religious schools in Germany, claming that they were "just as bad or even worse" than public schools. The Romeikes could have also chosen to work toward creating a school in Germany that more closely aligns with their claimed "Christian faith," but they apparently chose not to.
Unruh also uncritically repeats an assertion by homeschooling activist Michael Farris regarding the Department of Justice's agreeing with German officials that banning homeschooling does not equal persecution that "I'm glad Obama wasn't in charge in 1620." Neither Farris nor Unruh mentioned that the initial granting of temporary asylum to the Romeikes also took place under the Obama administration.
(WND's numerous conflicts of interest on the issue are not mentioned, among them being that Unruh homeschools his own children and at least one child of WND editor Joseph Farah has atteneded the Farris-founded Patrick Henry College, which caters to homeschooled evangelical Christians.)
Unruh then goes Godwin on the issue -- as WND is prone to do -- claiming that "The problem is that a Nazi-era law in Germany in 1938, under the leadership of Adolf Hitler, eliminated exemptions that would provide an open door for homeschoolers under the nation's compulsory education laws." In fact, compulory schooling has been a tradition for a good 200 years.
Posted by Terry K. at 2:10 PM EDT
Updated: Sunday, July 14, 2013 4:44 PM EDT