AIM's Kincaid Takes Russia's Side on Syria
Topic: Accuracy in Media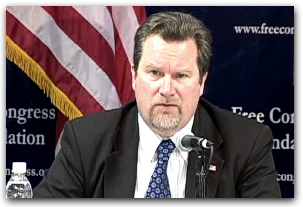 Cliff Kincaid's normal mode on Russia is to attack it. As recently as Aug. 27, Kincaid was ranting about "how the Russians play the American media—and some Americans—like violins" on the subject or Edward Snowden and how "Putin lied through his teeth about Snowden's relationship with Russia and is now boasting about carrying out this monumental deception."
Kincaid seems to have a change of heart since then, for he's now on the side of the Russians in opposing U.S. intervention in Syria -- while trying to hide that fact from his readers.
Just six days later, in a Sept. 2 Accuracy in Media column, Kincaid was lashing out at "the dubious case for war" made by President Obama, declaring that "Obama is spouting a bunch of nonsense, and the media know it." Kincaid made no mention of the fact that Russia also opposes Obama's possible intervention in Syria.
The next day, Kincaid conceded that Syria's Assad regime is "backed by Russia and Iran," but insisted that the real issue is "the nature of the opposition, backed by the Muslim Brotherhood. This is the side of the conflict that Obama, McCain and Graham want the U.S. to support." He didn't mention Russia's opposition to U.S. intervention in Syria.
On Sept. 4, Kincaid wrote a column headlined "War on Syria Means Victory for Al Qaeda." Kincaid didn't mention that it also means victory for Russia (though he did seem to tacitly endorse Russia's new "legislation to protect children from homosexual propaganda").
A Sept. 6 column by Kincaid is headlined "O'Reilly Buys Obama Propaganda on Syria," but Kincaid doesn't explain how he has apparently bought Russia's propaganda on Syria.
Posted by Terry K. at 9:36 PM EDT