More WND Columnists Dishonestly Defend Paula Deen
Topic: WorldNetDaily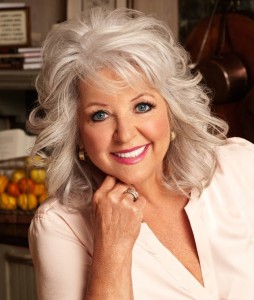 The pro-race-baiting sympathy for Paula Deen continues at WorldNetDaily.
In her July 4 column, Diana West not only makes sure we know what the N-word is -- "The offending word, of course, is 'nigger,' and no matter how ugly it is, it is hardly taboo when a quick search of iTunes pulls up 2,000 entries for sale featuring the term"-- she runs to Deen's defense:
Deen, 66, may have supported President Obama in 2008, but she is an old, white Southerner, which, in good, ol' fashioned Marxist-Leninist terms, is still a class of person best defined as "enemy of the people." Detestable. Expendable. Throw her under the "limousine liberals'" limousine while they, admiring enemies of the Constitution (or U.S. troops), whiz by us in cultural camouflage all the way to the reliably capitalist bank.
Meanwhile, Barbara Simpson is even more vociferous:
Trial? Proof? Who cares? Destroy her!

All because of a word – forbidden to all but blacks and liberals.

Those two women on the radio laughed at and derided Deen for her ancestry, her accent, her looks and her work. They cackled like Macbeth's witches.

Their support of the dramatic take-down of Deen was appalling. Not only did they take total delight in the almost instantaneous destruction of Deen, her career, her business and likely her life – but when asked if Deen losing her program and sponsors was enough punishment, both media woman shrieked and laughed "NO" – more was required.

I guess they wanted a tarring and feathering, followed by a week in the stocks and then a burning at the stake.

Deen is not one of the Salem witches, but she's become an instantaneous victim of the politics of personal destruction.
Reducing Deen's offense to merely having once used the N-word decades ago -- as West, Simpson, and other WND defenders of Deen have done -- is revisionist history. She also reportedly wanted black to play slaves at a plantation-themed wedding. Another former employee alleges that Deen would constantly require the black men who worked in her restaurants to serve at catering events at her Southern mansion, and would compensate them in beer and liquor instead of cash.
There's a lot more going on with Deen than her defenders at WND have admitted. Of course, if they did admit the full truth, their defense would not look so noble.
Posted by Terry K. at 8:22 AM EDT
Updated: Tuesday, July 9, 2013 9:26 AM EDT