WND's Moore Falsely Reports On Yet Another Vaccine Study To Fearmonger About It
Topic: WorldNetDaily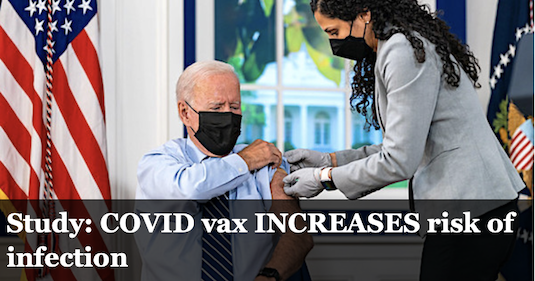 Art Moore, WorldNetDaily's chief COVID misinformer, particularly loves to misinform about COVID-related studies that can be twisted to pushWND's anti-vaccine agenda. He did it again in a June 21 article, under the screaming headline "Study: COVID vax INCREASES risk of infection":
A new study published in the New England Journal of Medicine found that two doses of the mRNA vaccines increased the risk of COVID-19 infection during the omicron wave.

And researchers further confirmed that those infected without having been vaccinated for COVID-19 acquired natural immunity from infection, the Epoch Times reported.

he study, published June 15, examined the omicron wave in Qatar from about December 2021 to February 2022. It compared vaccination rates and immunity among more than 100,000 omicron infected and non-infected individuals.

The results support a recent study from Israel finding natural immunity waned much more slowly than immunity from vaccination.

The new Qatar study found unvaccinated people with prior infection had a 46.1 and 50 percent immunity against the two subvariants of the omicron variant. But those with no previous infection who received two doses of the Pfizer and Moderna vaccine had negative immunity against both subvariants, meaning their risk of contracting COVID-19 was higher than an average person.
Moore's first mistake here was to trust the Epoch Times, the right-wing Falun Gong-run newspaper that is a firehose of COVID misinformation. The article Moore is cribbing from is behind a paywall, but we're not going to give the Epoch Times money or an email address to unlock it.it's clear that Moore did no fact-checking of the article before copying-and-pasting out of it to make his own, because what Moore wrote is wildly misleading. The key results as reported in the study are these:
The effectiveness of previous infection alone against symptomatic BA.2 infection was 46.1% (95% confidence interval [CI], 39.5 to 51.9). The effectiveness of vaccination with two doses of BNT162b2 and no previous infection was negligible (−1.1%; 95% CI, −7.1 to 4.6), but nearly all persons had received their second dose more than 6 months earlier. The effectiveness of three doses of BNT162b2 and no previous infection was 52.2% (95% CI, 48.1 to 55.9). The effectiveness of previous infection and two doses of BNT162b2 was 55.1% (95% CI, 50.9 to 58.9), and the effectiveness of previous infection and three doses of BNT162b2 was 77.3% (95% CI, 72.4 to 81.4). Previous infection alone, BNT162b2 vaccination alone, and hybrid immunity all showed strong effectiveness (>70%) against severe, critical, or fatal Covid-19 due to BA.2 infection. Similar results were observed in analyses of effectiveness against BA.1 infection and of vaccination with mRNA-1273.
BNT162b2 is the Pfizer-BioNTech COVID vaccine, mRNA-1273 is the Moderna vaccine.
Translation, which Moore didn't make clear at all: The risk of infection by Omicron variant BA.2 is effectively the same for someone who only got the initial two-vaccine series as someone who had gotten no vaccine or previous infection -- -1.1% is efffectively the same as zero, so it's deceitful for Moore to portray it as a significantly higher risk. This isn't surprising because Omicron has mutated to evade the protection of the original vaccines, which were best attuned to the original strain -- something Moore failed to explain to his readers; all the better to fearmonger about vaccines.
Moore also censored other results that don't fit into his anti-vaccine narrative. The results also stated that the highest rate of effectiveness against infection was for those who had a previous infection and were fully vaccinated. The study also stated that vaccination alone offered similar protection as prior infection and infection/vaccination against severe, critical, or fatal COVID due to BA.2, which Moore also censored.
Moore's article was published while WND was still begging for money to stay alive for a while longer. Do those who donated to WND's campaign really feel they're Being truthfully and accurately informed? Because the record says no.
Posted by Terry K. at 6:40 PM EDT