CNS' Jones Defends The Honor Of Yachts (And Shills For The Oil Industry)
Topic: CNSNews.com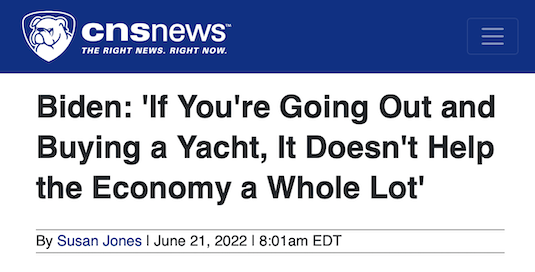 In case you were wondering who CNSNews.com's core audience really is, Susan Jones answered it in a June 21 article in which she defended the honor of yachts and the super-rich people who buy them as job creators:
President Joe Biden made another pitch to raise taxes on corporations and wealthy Americans on Monday, telling reporters gathered on a Delaware beach: "If you're going out and buying a yacht, it doesn't help the economy a whole lot."

People who buy yachts, of course, keep yacht-sellers and yacht builders in business. And the yacht owners need to hire crews to run their ships, so job-creation is also part of the yacht-buying experience.

But, if yacht-buying doesn't help the economy, Biden does believe that lowering the price of insulin -- and buying expensive electric cars -- will help.
Talking down electric cars, however, harms a different CNS constituency: Tesla chief Elon Musk, whom it has cheered for his efforts to buy Twitter and touted his opinions on various and sundry sujbects.
But Jones wasn't done. When Biden pointed out that oil companies are sitting on 9.000 leases to drill on public lands and that they've "they've cut back on refining," Jones went into oil industry PR mode and copy-and-pasted talking points from the American Petroleum Institute offering "seven realities" that supposedly explain "what is happening in global energy markets and (provided) concrete and practicable solutions for addressing today's high-price environment" -- none of which address the fact that oil companies are sitting on 9.000 leases to drill on public lands.
Jones uncritically repeated the API's narrative on refining -- which blamed "conversions to renewable fuel production" for decreases in refining capacity but then insisted that "ExxonMobil is expanding the capacity at its Beaumont, TX refinery and Valero at its Port Arthur, TX refinery for a combined total of 300,000 barrels per day" -- while ignoring the fact that U.S. refining capacity dropped more than 900,000 barrels per day just in the past two years, while worldwide refining capacity has dropped by 3.3 million barrels a day since 2020.
Jones did not give Biden or the White House an opportunity to respond to API's talking points. Then again, CNS loves shilling for the oil industry.
UPDATE: Jones ran to the oil industry's defense again in a June 22 article:
President Joe Biden is no fan of oil companies, and his sarcasm was on full display Tuesday, when a reporter asked the president about a letter the Chevron CEO wrote to Biden.

Michael Wirth, the Chevron's chairman of the Board and CEO, noted that "your Administration has largely sought to criticize, and at times vilify, our industry. These actions are not beneficial to meeting the challenges we face and are not what the American people deserve."

Asked for his reaction, Biden sneered: "He's mildly sensitive. I didn't know they'd get their feelings hurt that quickly.
When Biden again referenced the 9,000 leases on public lands the oil companies are sitting on, Jones again resorted to copy-and-paste PR From API:
Biden's stock response regarding the "9,000 leases" is misleading because it suggests that oil companies can just put a straw in the ground and suck up the oil waiting below.

First, not all leases are productive. And second, establishing a working oil well takes considerable time and bureaucratic effort.

According to the American Petroleum Institute:

"The (Biden) administration discouraged production of natural gas and oil starting with its first moments in power. On Day One, the President signed an executive order to impose a temporary moratorium on oil and gas leasing activity in the Arctic National Wildlife Refuge (ANWR); withdrew offshore areas in Arctic waters and the Bering Sea from oil and gas drilling; and revoked the permit for the Keystone XL pipeline.

"Days later, the administration acted to indefinitely pause all new oil and gas lease sales on federal lands and offshore waters, immediately restricting the industry's opportunities to explore and invest in new areas.

"Even where the administration hasn't blocked federal leases, it has been an unwilling partner, openly admitting the sales are not aligned with their policies."

Further, API notes that wells and leases -- those 9,000 leases -- "are not like faucets and spigots. It takes months for new wells to start producing and it can take more than five years for some fields to go from discovery to production, thanks in part to regulatory and legal hurdles along the way."
Nowhere in that copy-and-paste PR did the API reveal what, exactly, they are doing will all of those 9,000 oil leases besides sitting on them. Hopefully the API is sending a little money Jones' way for being such a loyal stenographer (well, copy-and-paster).
Posted by Terry K. at 6:29 PM EDT
Updated: Monday, July 25, 2022 8:53 PM EDT