Newsmax Hosts COVID Misinformer McCullough
Topic: Newsmax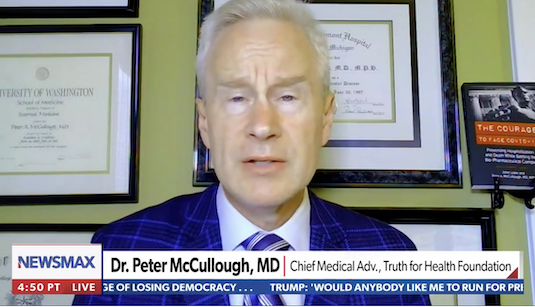 WorldNetDaily isn't the only ConWeb outlet who has given an uncritical platform to COVID misinformer Peter McCullough. Jay Clemons uncritically wrote in a June 19 article:
Dr. Peter McCullough doesn't see the necessity in a COVID-19 vaccine for children ages 5 and under.

He also doesn't understand the government's supposed haste in touting such an "experimental" vaccine, given how the vast majority of children have proven to be resilient against the coronavirus.

"I think it was a mistake for the FDA to approve it," McCullough told Newsmaxhost Amanda Brilhante Sunday morning, while serving a guest on the "Wake Up America" program. "And clearly the CDC recommendation probably won't be followed by a lot of the parents."

McCullough, the chief medical adviser to the Truth For Health Foundation, has devoted much of the last two-plus years studying the coronavirus, and its effect on small children and infants.

"Children have a very mild syndrome [relative to COVID]. It's not like our senior citizens, who are at risk," says McCullough, while adding the coronavirus is "easily managed" by children, especially those who get "an early start on treatment."
As we've documented, the Truth for Health Foundation is filled with dubious "experts" who similarly spread COVID misinformation, and it's headed by Elizabeth Lee Vliet, a medical misinformer in her own right who is affiliated with the fringe-right Association of American Physicians and Surgeons. He (and Clemons) also hid the fact that more than 460 have died of COVID, and that the rate of hospialization for children has surged with the Omicron strain and its variants becoming the preeminent strain in the U.S. The vaccines also have a significant level of effectiveness in young children.
Rather than report any of these facts, Clemons and Brilhante let McCullough falsely fearmonger about the vaccine without being challenged on the issue:
"Parents should be wise" about companies or governmental agencies that over-promise on the vaccine's efficacy, said McCullough. "I think many parents will conclude, 'it's experimental, it's genetic code for the spiked protein that was devised in a lab in Wuhan, China.' This is just going too far."
McCullough was also allowed to engage in baseless speculation that the COVID virus was intentionally created, claiming that "We know that the spike protein looks like it was genetically modified to make the virus more infectious and more lethal." McCullough offered no evidence to back up that assertion. In reality, most legitimate scientists dispute the main right-wing conspiracy theory on the subject (which McCullough was hinting at), that the COVID virus was created in a Chinese lab.
Posted by Terry K. at 2:32 PM EDT
Updated: Tuesday, July 26, 2022 2:35 PM EDT