CNS Falsely Suggests Keystone Pipeline Would Lower Gas Prices
Topic: CNSNews.com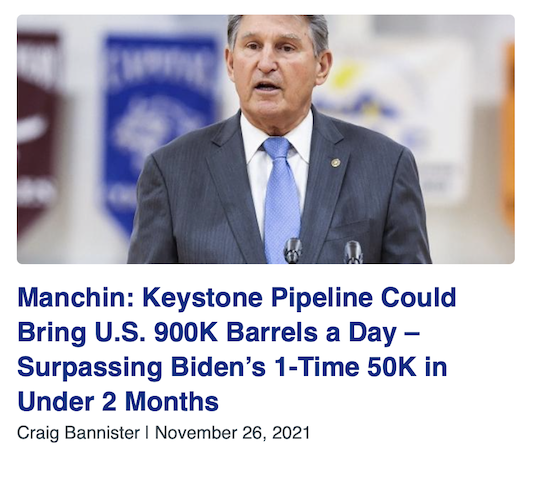 CNSNews.com, like a good right-wing apparatchik, was predictably outraged when President Biden canceled the Keystone XL pipeline ahortly after taking office. A January 2021 article by managing editor Michael W. Chapman, for example, complained that then-nominee for secretary of transportation Pete Buttigieg said that workers who had been employed in building the pipeline can get other jobs andlaughably portrayed Republicans as a defender of unions in trying to save those jobs. Another article that month by Melanie Arter quoted a Repubican senator claiming that the pipeline's cancellation will raise gas prices.
As oil and gas prices have risen over the past year, that last talking point has gained prominence. After Biden released oil from the Strategeic Petroleum Reserve in a bid to lower prices -- something CNS demanded he do then dismissed it when he did -- Craig Bannister wrote in a Nov. 29 article:
The U.S. could be getting 900,000 barrels of oil a day if President Joe Biden hadn't stopped the Keystone XL pipeline, U.S. Senator Joe Manchin (D-WV), Chairman of the Senate Energy and Natural Resources Committee, says.

In a statement released Tuesday, Sen. Manchin criticized Biden's decision to order a one-time release of 50 million barrels of oil from the nation's petroleum reserve, instead of allowing more U.S. production.

[...]

If the pipeline did deliver that much oil, it would it would a take a little under two months (56 days) to surpass Pres. Biden's one-time release of 50 million – and keep going.
Just one problem: Fact-checkers have found no evidence that the Keystone XL pipeline would have any impact on gas prices in the U.S.
A Feb. 4 article touted the mini-propaganda film made by CNS' parent, the Media Research Center:
During a screening and panel discussion of the Media Research Center's new documentary on the Keystone XL pipeline, House Rep. Don Bacon (R-Neb.) detailed how the canceling of the pipeline by President Biden is hurting workers and the economy in Nebraska. He also stressed that it was "outrageous" for Biden to support Russia's Nord Stream 2 pipeline.

[...]

The mini-documentary shows how the pipeline expansion, which was supposed to run from Canada south though the Midwest United States to refineries at the Gulf of Mexico, would have created tens of thousands of jobs and pushed America further towards energy independence.

The report highlights news stories on the pipeline, including its energy, jobs, and economic impact, as well as interviews with U.S. workers and public officials who discuss how its cancellation has hurt their communities.
As we documented, thte MRC's little film wildly overstates how many jobs the pipeline would have created, and it censors the fact that much of the petroleum products created from pipeline oil would be exportted -- not made for use in the U.S.
The article went on to quote participants -- which excluded supporters of the pipeline's discontinuation -- speculating over Keystone's impact on gas prices while ignoring evidence that it would have no impact.
Despite its lack of actual proof of a link between the pipeline's cancellation and higher gas prices, CNS continued to suggest one anyway. A Feb. 11 article by Susan Jones on Biden pledging to work to lower gas prices pointedly referring to him as "the man who canceled the Keystone XL pipeline." Jones further suggested a link in a Feb. 16 article:
In his push for green energy, Biden has targeted fossil fuels, signing executive orders pausing oil and gas leasing on federal lands and scrapping the Keystone pipeline as soon as he took office.

Between January 2021 and January 2022 -- President Joe Biden's first year in office -- the price of unleaded gasoline increased 40.8 percent, according to the Bureau of Labor Statistics.
Needless to say, Jones offered no evidence that any Biden energy policy, including the Keystone XL shutdown, has been directly linked with the increase in gas prices. And she censored evidence that U.S. oil companies have been slow to increase domestic oil production and have not rushed to expand drilling on land leases they already own.
Posted by Terry K. at 11:54 AM EST
Updated: Tuesday, July 26, 2022 10:40 PM EDT