CNS' Jones Gets Annoyed When Oil Industry Profits Are Brought Up
Topic: CNSNews.com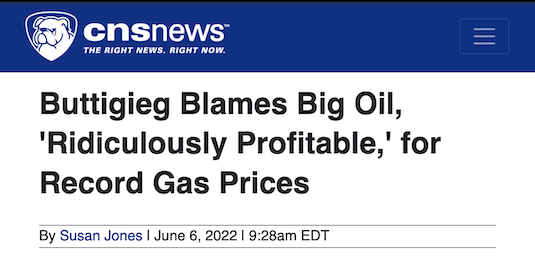 CNSNews.com serves as reliable stenographers for the oil industry, so it's no surprise that it's a bit sensitive about folks pointing out oil industry profiteering. Susan Jones grumbled in a June 6 article:
President Joe Biden and his administration continue to blame Russia's war on Ukraine for spiking gasoline prices. But some administration officials also blame oil industry profiteering.

Transportation Secretary Pete Buttigieg told ABC's "This Week" that "the price of gasoline is not set by a dial in the Oval Office."

"And when an oil company is deciding, hour by hour, how much to charge you for a gallon of gas, they're not calling the administration to ask what they should do; they're doing it based on their goal of maximizing their profits.

"It's been very striking right now to see these oil companies, who have become almost ridiculously profitable, and you hear these oil executives on the record talking about how they're not going to increase production. Why would they? They're doing great right now.
As we've previously noted -- and Jones didn't -- the Dallas Federal Reserve office surveyed 139 oil and gas companies in March about trends in the industry, and one of the questions asked, "Which of the following is the primary reason that publicly traded oil producers are restraining growth despite high oil prices?" Nearly 60 percent responded, "Investor pressure to maintain capital discipline"-- i.e., investors want prices high so they can make money.
Still, Jones complained every time oil industry profits are brought up. In a June 10 article blandly headlined "Biden: 'Every Once in a While Something You Learn Makes You Viscerally Angry' " -- that thing was the exhorbitant rates foreign shipping companies charge -- Jones later noted:
At the end of his speech, a reporter asked the president if he planned to go after Exxon's profits.

"We are going to make sure that everybody knows Exxon's profits. Why don't you tell them what the profits were this quarter? Exxon made more money than God this year. And by the way, nothing has changed. And by the way, one thing I want to say about the oil companies. You talk about how they have 9,000 permits to drill. They are not drilling," Biden said.

"Why aren't they drilling? Because they make more money not producing more oil, the price goes up, number one. And number two, the reason they're not drilling is they are buying back their own stock, which should be taxed, quite frankly, buying back their own stock and making no new investments, so I always thought Republicans were for investment. Exxon, start investing, start paying your taxes," he said.
Again, Jones didn't dispute it. Jones expanded that into a larger complaint in a June 15 article:
President Joe Biden reportedly has sent a letter to various U.S. oil and gas executives, "talking about record high profit margins, saying you need to raise your output, raise your refining capacity as well," CNBC's Brian Sullivan reported early Wednesday morning on MSNBC's "Morning Joe."

Reading from the letter he'd just obtained, Sullivan said, quoting the president: "You and your companies have an opportunity to take immediate action to increase supply of gas, diesel, other refined products."
This time, though, she did give a platform to the industry to respond, stating that "Forbes magazine reporter David Blackmon asked ExxonMobil for a response to Biden's criticism and received this reply," which was largely a non-answer answer justifying the record profits because of losses early in the pandemic:
"We reported losses of more than $20 billion in 2020, and we borrowed more than $30 billion in 2019 and 2020 to support our investments in production around the world. In 2021, total taxes on the company's income statement were $40.6 billion, an increase of $17.8 billion from 2020."
Actually,that pandemic-driven loss was driven mostly by writing down the value of $19 billion in assets, not by an actual loss of that amount of money.
Jones served up a similar complaint in a June 23 article:
President Joe Biden "wants to do everything" he can to lower gasoline prices because "he understands the importance of it," Energy Secretary Jennifer Granholm told reporters at the White House on Wednesday.

But doing "everything" does not include attending today's meeting with oil company executives, whom Biden continually vilifies as profiteers.
This time, Jones didn't dispute the characterization.
Posted by Terry K. at 6:52 PM EDT
Updated: Monday, July 25, 2022 6:30 PM EDT