MRC's Double Standard On Graphic Photos Of Dead Children
Topic: Media Research Center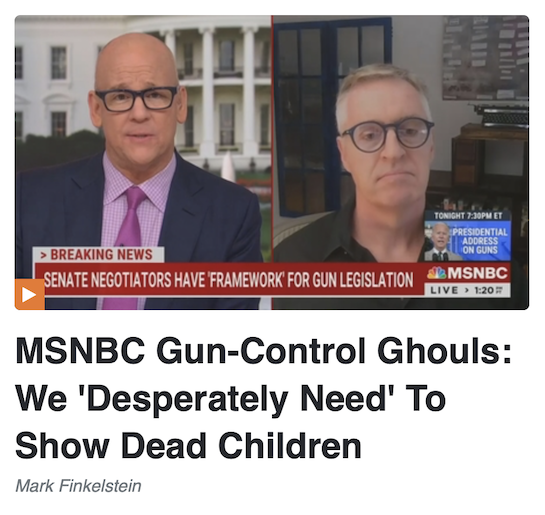 The Media Research Center's Alex Christy loudly complained in a June 2 post about the idea that graphic images of the victims of gun massacres should be made public as a way to move people into doing something aboaut them:
On Thursday's CNN Newsroom, host Ana Cabrera and pediatric trauma surgeon Dr. Chethan Sathya claimed the country needs "an Emmett Till moment" in order to do something about "these automatic weapons."

The Till reference comes from an op-ed in the Washington Post from former Homeland Security Secretary Jeh Johnson, which Cabrera read from, "in order for change to happen, we need an Emmett Till moment. Johnson writes in part this -- and I'm quoting here – 'I lack the moral standing to tell a parent to accept and approve for the greater good the public display of photos of his or her dead child, nor do I suggest the release of any images in particular, but something graphic is required to awaken the public to the real horror of these repeated tragedies.'"

Till was brutally membered and dismembered in a racist attack while his body was left to sink in a river. Here, Johnson and CNN are talking about punishing innocent people for someone else's crimes.

Cabrera then introduced Sathya and declared "This is such an important discussion" and asked "What do you think about what the secretary there wrote about this idea of people seeing with their own eyes what it looks like, a gunshot wound in a child? Do people need to see what you see?"

Sathya did agree, "One hundred percent. This has been something that we've been seeing as physicians, trauma surgeons for decades, right? You know, we are talking right now about mass shootings. We're talking about children being killed. This is something we see on a daily basis."
Mark Finkelstein similarly whined in a post the next day:
Pro-abortion liberals rage against laws requiring ultrasounds before women can get an abortion. But whereas liberals oppose having people see living babies, many liberals are now clamoring to force people to view dead babies and children—the victims of mass shootings.

On Thursday's Nicolle Wallace Deadline: White House show on MSNBC, substitute host John Heilemann led the charge on the issue.

[...]

Heilemann's guest, Dave Cullen, a gun-control advocate and author, heartily agreed: "I think we desperately need some new, fresh tactics and creative thinking. And, I like this!"

So, should we look for gun-control extremists to call on MSNBC, CNN, and other liberal outlets to implement their ghoulish proposal, and begin displaying the bodies of children killed in mass shootings?

Note: Heilemann isn't the first liberal TV host to promote the viewing of dead bodies to promote his cause. Back during the Iraq War, Walter Cronkite proposed showing the dead bodies of American soldiers in order to turn people against the war.
Finkelstein didn't that that right-wingers have pushed graphic images to be displayed in public -- those of abortions, as a ploy to gain sympathy for the anti-abortion cause. Indeed, one of Finkelstein and Christy's co-workers, Tierin-Rose Mandelburg, not only demanded that be done, she stuck graphic images in her April 20 post:
It's Episode 34 of CensorTrack with TR. This week we talked about how Big Tech is hiding the truth about the biggest tragedy our world faces today — abortion.

A group of pro-life activists discoverd the remains of 110 babies, five of which may have been killed illegally, according to National Review. "The Five" children were found on March 25th and were suspected to be around the late second or early third trimester of pregnancy when they died. This is a story that needs to break the news cycle. The world needs to see these images and know about the true tragedy of abortion. But apparently, Big Tech doesn't think so.

A pro-life group called LifeNews tweeted out a picture of one of the five babies. The group told MRC in an email that they explicitly added a sensitive warning over their post to alert users that the content was sensitive in hopes of avoiding Twitter's censorship. Unfortunately, Twitter disagreed. Twitter told LifeNews to delete the tweet, locked LifeNews out of its account and threatened a permanent ban.

Why? Because it showed the truth of abortion?

LifeNews told the MRC, "That's what makes Twitter's decision to force us to remove the tweet and potentially ban our account even more absurd, as we followed their own policies to ensure that a sensitive image was marked sensitive before posting it. We didn't just post it willy nilly with no warning like thousands of images of porn and violence are posted on Twitter every day with no action taken against those accounts."
It's a pretty good bet that Mandelburg will never do an episode of "CensorTrack With TR" demanding that graphic photos of gun massacre victims be allowed on social media so that people can see "the truth" of gun violence. And she's never going call her fellow activists "ghouls" for obsessively trying to inject those photos into public spaces.
Posted by Terry K. at 3:22 PM EDT