CNS Unemployment Coverage Distortion Watch, Pre-Reporting Edition
Topic: CNSNews.com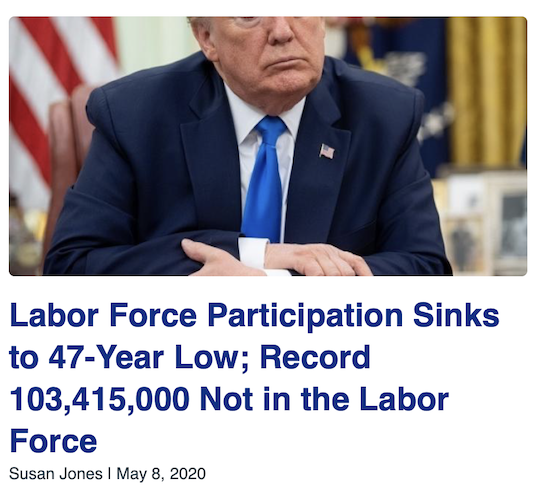 You know the unemployment situation under President Trump is bad when CNSNews.com has to do pre-reporting to soften the blow. It did that before March's coronavirus-spiked numbers came out, and it did so before the even more spiked numbers for April.
An April 30 article by managing editor Michael W. Chapman featured a Fox Business report (of course) noting that there have been more than 30 million jobless claims filed since the pandemic shutdowns began and "unemployment is expected to hit between 18% and 20%, which is a 'Depression-like' number." Chapmanthen served up those Depression-era numbers: "During the Great Depression, the national unemployment rate peaked at 24.75% (of the labor force) in 1933. The U.S. population then was 92,950,000. The unemployment rate stayed in the high teens from 1935 to 1940."
When the actual numbers came out on May 8, Susan Jones reverted once again to looking at the labor force participation rate, while also trying to remind readers that Trump was doing great before the pandemic:
The nation's labor force participation rate reached a 47-year low of 60.2 percent in April, according to the Bureau of Labor Statistics, as the number of people not in the labor force jumped by 6,570,000 to a record 103,415,000.

The participation rate has now dropped 2.5 percentage points since March, and it is the lowest it has been since the 60.0 percent recorded in January 1973.

[...]

The number of employed Americans had broken 25 records under President Trump, something he has frequently repeated on the campaign trail.

At the same time, a record 23,078,000 Americans were unemployed in April -- 15,938,000 more than in March.
The unemployment rate of 14.7 percent didn't get mentioned by Jones until the eighth paragraph of her article.
In his designated sidebar, Craig Bannister had the grim duty of reporting that "The 18.9% national, seasonally-adjusted unemployment rate for Hispanics and Latinos in April more than tripled from March's 6.0% level, as the number employed plummeted by more than five million (5,093,000) and the number unemployed jumped by more than three million (3,492,000) from March's levels." Editor Terry Jeffrey's designated sidebar complained that "As overall employment in the United States was dropping dramatically in April, the federal government added 1,000 jobs."
Chapman followed up on May 12 with a little pre-reporting for the next report, noting that "Kevin Hassett, the senior economic adviser to President Trump and former chairman of the president's Council of Economic Advisers, said that in the next report on jobless claims he expects the national unemployment rate to be 'close to 20%,'" and that it likely won't get back below 10 percent until late next year.
Not a lot of distortion this time -- it seems even CNS can't spin numbers this bad.
Posted by Terry K. at 12:11 AM EDT