WND's Zumwalt Pushes More Coronavirus Conspiracies
Topic: WorldNetDaily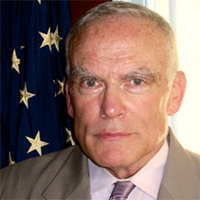 We've caught WorldNetDaily columnist James Zumwalt pushing conspiracy theories about the coronavirus -- namely, that it was developed by the Chinese as a bioweapon with U.S. help. He hasn't given up the conspiracy-mongering.
Zumwalt began his April 8 column with a conspiratorial question: "How did it come that COVID-19, birthing in China, immediately jumped to Italy, which has been among the hardest hit by the virus? This happened as two countries with which Beijing shares borders and maintains good relations – Russia and North Korea – remain, if those countries' reporting numbers can be trusted, relatively un-impacted by the virus." His answer is that China bought Italian companies, after which " an estimated 300,000 Chinese citizens relocated to Italy, coming and going at will. With some exposed to COVID-19, it was no wonder the country very quickly became a hotspot." He concluded by huffing that "After COVID-19 runs its course, Italians can count their dead as the Chinese count their money."
He did it again in his April 15 column:
But circumstantial evidence now has some wondering whether the virus release was intentional. Supporting this is the fact, while millions of people were on lockdown in Wuhan, there were no reported cases in Beijing where most senior political and military leaders reside – nor in Shanghai, the country's financial center. Additional evidence includes China building a 1,000-bed hospital in Wuhan in just 10 days, the stockpiling of masks and ventilators then sold to other countries, the disappearance of medical personnel "whistleblowers" and causing havoc in foreign stock markets with little negative impact to its own. Now, as economic engines around the world remain shutdown, China begins powering up.

The fact Chinese President Xi Jinping surprisingly walked through virus-infected areas donning only a facemask raises a nefarious observation. The president for life should have worn more protective gear; the fact he did not begs the question whether China has developed a virus antidote administered to its leaders.
Zumwalt went on to complain that criticism of President Trump for pushing a largely unproven drug hydroxychloroquine was "politically motivated," as was the acts of "several Democratic governors" in clamping down on prescribing them until their efficacy can be established.
On April 22, Zumwalt attacked Dr. Anthony Fauci for using a supposedly faulty projection of coronavirus deaths to force shutting down the economy:
The first assumption is the veracity of the projection model Dr. Anthony Fauci relied upon to estimate COVID-19 deaths in the U.S. While several models were designed, Fauci opted to rely upon one created by the Institute for Health Metrics and Evaluation (IHME) – a model estimating 2.2. million deaths. Perhaps because the model was partially funded by billionaire Bill Gates, it became Fauci's model of choice. Trump, presented with a highly projected death toll and at Fauci's urging, decided America had to be quarantined and the economy locked down.

Supposedly, basing decisions on data input provides us with clearer focus in our decision-making, filtering out emotions, such as panic, and media bias. But the IMHE projected death toll created the panic Trump sought to curtail. His error – for which he cannot be blamed – is Fauci's reliance upon a faulty model for which he, as Trump's medical science guru advising him on an extreme course of action, proved irresponsible.
Even the conservative Washington Examiner shut down that conspiracy.
Posted by Terry K. at 12:41 AM EDT