MRC Handwaves Anti-Lockdown Nazi Symbolism With Lots of Whataboutism
Topic: Media Research Center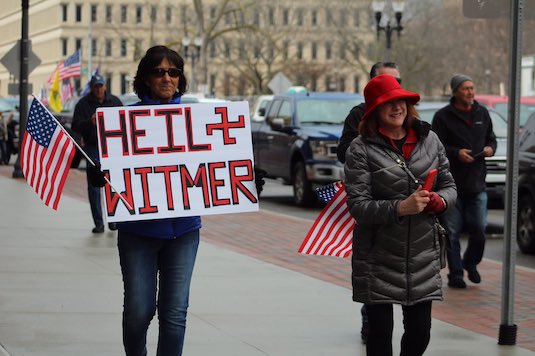 The Media Research Center is totally cool with smearing abortion providers and women who have abortions as Nazis. But far-right protesters who were actually waving Nazi symbols? Not so fast -- not when there's a Democratic governor to attack.
In a May 4 post, Tim Graham took issue with Michigan Gov. Gretchen Whitmer accurately pointing out in an appearance that "there were swastikas and Confederate flags and nooses and people with assault rifles" at anti-lockdown protests in her state:
That's an awfully vague smear. Some people with swastika signs were mocking Whitmer as a Nazi (one with the words "HEIL WHITMER.") Even liberal fact-checkers noted an alleged swastika sign in Michigan...was actually a picture from Idaho.

The protester footage CNN aired didn't have any nooses, swastikas, or Confederate flags. The local news story showed American flags, alongside some Trump flags and Don't Tread On Me flags:
Not only did Graham also take the whataboutism route by ranting about CNN hosts who weren't even involved in this segment failing to hate antifa the way Graham apparently still does, he complained that one observer of the Michigan protests "spread the falsehood that Trump called neo-Nazis 'very fine people,'" citing a claim by "former CNN pundit Steve Cortes" about "what Trump actually said." But as we've previously documented, Cortes got it wrong.
Kristine Marsh tried to pile on Whitmer in a May 13 post, grumbling that an appearance by Whitmer on "The View" was "just another opportunity for Whitmer to bash critics of her harsh lockdown rules as violent racists" and insisting Whitmer was the one pushing "hateful rhetoric." Marsh failed to highlightthe Nazi and Confederate symbolism at anti-lockdown protests in the state.
Scott Whitlock's goal in a May 15 post was to minimize the extremists of the Michigan protesters and insist they weren't representative of the crowd. He first huffed:
When there is a liberal protest with signs comparing Republicans to Hitler and calling for violence, journalists tend to carefully avoid those images on network TV. But a few bigots and nuts who attend anti-lockdown protests must be representative of the group at large. That was the message on Friday's CBS This Morning.

[...]

This time, a fight broke out between demonstrators over a doll with a noose around its neck." She added that the organizers "quickly distanced themselves from the incident." But CBS clearly won't let them do that.
He too complained about Whitmer and tried to make things about her and not the extreme protesters:
Many of these rallies are stridently anti-Whitmer. So perhaps that has something to do with the governor's dismissal of "political rallies" as "not an exercise of democratic principles"? [Reporter Jerika] Duncan didn't ask. A network graphic warned, "Anti-Lockdown Protests Concerns: Signs of Hate Spotted at Rallies Nationwide."

Instead, she focused on isolated incidents of Nazi imagery and a noose on a doll. Obviously, these examples are disgusting and should be condemned by everyone. However liberal and Democratic protesters aren't forced to condemn their nuts and extremists.
And he played whataboutism as well: "They also compared Bush to Hitler."
Marsh returned to complain about another episode of "The View," where "Joy Behar in particular was upset because angry protesters harassed a local news reporter there, so she compared them to the 'white supremacists and neonazis' in Charlottesville, whose protest ended in violence." She went onto huff whataboutism: "So The View is upset by a few protesters yelling "fake news" and obscenities at a reporter. But where was their outrage when a reporter was actually physically attacked by Antifa last year? In 2017 the show defended the violent left-wing group." That's a reference to right-wing provocateur (not a "reporter") Andy Ngo, who appears to have been collaborating with the right-wing protesters that were clashing with Antifa, making him a little less innocent that Marsh would have you believe.
Posted by Terry K. at 10:37 PM EDT
Updated: Sunday, May 24, 2020 10:37 PM EDT