Another White Nationalist Supporter Once Worked For The MRC
Topic: Media Research Center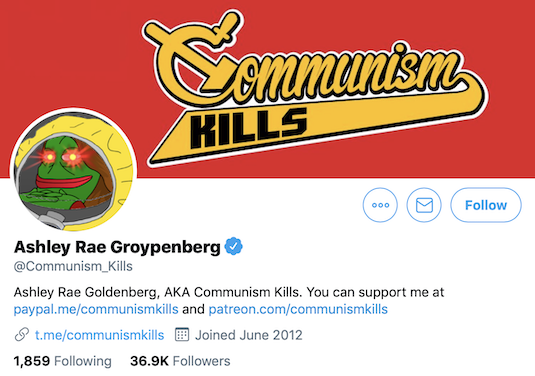 Last year, we wrote about how the Media Research Center had employed Tim Dionisopoulos -- a white nationalist activist involved with groups such as Youth for Western Civilization -- in the mid-2010s, which came on top of NewsBusters blogger Tom Blumer being unceremoniously dismissed after his posts were found to contain links to white nationalist websites (the MRC still hasn't explained how those links made it past editing if the organization is so opposed to white nationalism). Well, it turns out another former MRC writer has exposed her true white nationalist colors.
Right Wing Watch documented how Ashley Rae Goldenberg -- known in right-wing circles for her "Communism Kills" Twitter handle, where she has changed her last name to Groypenberg (a "groyper" is a supporter of white nationalist Nick Fuentes) and changed her avatar to a groyper toad -- has been praising the alt-right and white nationalist movements since at least late 2019 and running in those circles well before that. Most recently, she has been cheering the death of Ahmaud Arbery, an unarmed black man shot to death by two white men who alleged he was a burglar. RWW notes that a former Daily Caller editor who worked with Goldenberg at the time in 2015, wrote Goldenberg a letter of recommendation for her first full-time job at the MRC, which he now says is one of his "biggest regrets."
RWW added: "Curtis Houck, managing editor of Media Research Center's NewsBusters blog and someone who Goldenberg described on Facebook as a former co-worker, 'liked' and shared Twitter posts critical of Goldenberg in December​. ​However, neither Houck or MRC responded to our requests for interviews, via Twitter and online contact form, respectively."
Indeed, based on archive records, Goldenberg worked for the MRC, as a NewsBusters writer between March and August 2018 and as a writer for MRCTV between roughly June 2015 and January 2018. Strangely, her author archive at both NewsBusters and MRCTV has been decactivated; clicking on her byline returns an "access denied" error. But one can still search for her work by typing her name into text search. RWW notes that Goldenberg attended a conference hosted by the white nationalist National Policy Institute in 2016, which overlapped with her MRC employment.
No wonder Houck and the MRC don't want to talk about Goldenberg -- just as they have refused to talk about their employment of Blumer and Dionisopoulos.
We've caught Goldenberg doing MRC-like things, like lashing out at original Facebook programming for purportedly being too liberal, laughably insisting there's no difference between CNN and Infowars, defending a man who developed a 3D-printable gun and, of course, hating gays.
The MRC has had enough white nationalists work for them that maybe it's time for Brent Bozell and Co. to explain why.
Posted by Terry K. at 10:36 PM EDT