CNS Shoots Down Its Own Bad Take On Churches And Coronavirus
Topic: CNSNews.com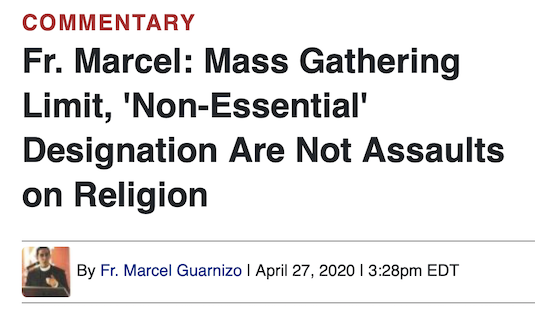 CNSNews.com's politicization of the coronavirus pandemic by embracing the bad take that restricting in-person worship services is a violation of religious freedom rather than the public health measure it actually is has been needlessly continuing:
An April 15 op-ed by Katherine Beck Johnson complained that "some local authorities have gone too far in restricting religious gatherings," declarining that "The ability to gather and practice our faith is a fundamental right

" and only obliquely acknowledging that there's a public health interest.

Managing editor Michael W. Chapman parroted President Trump's unfounded speculation (in retweeting highly biased right-wing writer Paul Sperry, whom Chapman describes has merely a "reporter") that restrictions on Muslim religious gatherings during Ramadan would be different than those on Christians during the Easter (never mind that the Easter season occurred in a very dangerous part of the pandemic).
Chapman also promoted a call by the right-wing activist group Liberty Counsel (which he benignly described as a "public interest law firm and Christian ministry) for churches across the nation to reopen on May 3, 'ReOpen Church Sunday,' and to do so in accordance with CDC guidelines about social distancing and hygiene."Chapman huffed in another article: "A police officer in northern Italy interrupted a Catholic Mass on April 19 and tried to stop the ceremony, but the priest rebuffed his efforts and a subsequent phone call from the mayor. In the end, the officer fined the priest $735.00 (680 euros) and a reported 19 parishioners $300.00 (280 euros) each, for apparently violating COVID-19 quarantine rules."
And Chapman used a May 1 article to highlight how "Cardinal Blase Cupich, head of the Archdiocese of Chicago, declined to meet with a group of faithful Catholics who wanted to discuss with him how their churches could be reopened for Mass while still following social distancing rules.
A May 1 column by Rev. Michael Orsi groused that "officials have aggregated to themselves more and more power" and seemed to cheer that "resistance to these containment measures has grown, and for reasons that are perfectly understandable," adding "Done in the name of public health, and perhaps justified by the threat of contagion, this has nonetheless demonstrated how government power can be set in opposition to faith. One can only fear that this experience may have whetted the appetite of certain political figures for even more assertive anti-church efforts." Orsi added: "For the past few weeks, government has kept society pretty thoroughly locked down. Now, we have to think about locking down government power."
CNS positively gushed over Trump's declaration that churches are "essential" and that he would "override" governors who purportedly try to keep them closed, devoting two articles to it, plus another one on press secretary Kaleigh McEnany snarky, unfounded statement that reporters want churches to stay closed.
The originator of this bad take, CNS editor Terry Jeffrey, brought his own addition with a May 6 column complaining that churches would stay closed in Virginia, where CNS parent the Media Research Center is headquartered, while liquor stores could open: "In [Gov.] Ralph Northam's Virginia, 20 people can enter a store that sells beer and wine and rudely brush past one another in the narrow aisles. But if 16 people were to meet on Easter in a church that seats 225, they would be criminals."
In the midst of all this politically motivated ranting, CNS actually did something it's not known for: offer an alternative viewpoint.It did so in a very understated way, of course, in a pair of columns by Catholic priest theologian Marcel Guarnizo, who is the kind of right-wing Catholic CNS likes because he once denied the sacrament of communion to a lesbian at her mother's funeral.
In an April 20 column, Guarnizo highlighted that "irrational agitating of the faithful seems morally suspect, adding: "This temporary suspension of attendance at the Holy Mass is not an attempt to subvert our religious freedom. This temporary shutdown has little to do with Catholicism per se. The right that is being limited is not religious freedom, but the right of association." Guarnizo pointed out that "COVID-19 is perhaps more contagious and would be many times theoretically more lethal [than the flu] if allowed to run rampant through the population" and that "Slowing down a new virus also makes sense in order not to exhaust medical resources, human and material, so that our best care for the sick may be insured. Whether one agrees or disagrees with the current measures, such large claims of persecution are unwarranted and alarmist."
Surprisingly, CNS also published an April 27 column by Guarnizo doubling down on that viewpoint, citing conflicts over the issue in New Mexico:
Not having mass associations within a confined space does not mean, as Rusty [Reno, editor of right-wing religious journal First Things] suggests, that the government suspended public worship in New Mexico. There are no government officials intimidating anyone not to worship. Bishop [Peter] Baldacchino, who carried on outdoors with public Easter celebrations, states that someone called the police and they came, and they said, "Father, this is all fine, we cannot see any problems."

There are so-called culture wars with the state, regarding abortion and other matters, and those are very real. But these "faux" claims of oppression over a temporary limitation of association in New Mexico, are imaginary. Bishop Baldacchino is freely making prudential decisions, unimpeded by the state, and that is his call. I submit we have enough dislocation in the Church and in society at large to be inventing hills on which to die upon.

[...]

It is therefore not our right to religious freedom that is being limited, but the right of association. This is also true for others, who are limited in their right to association for secular purposes. Nothing here is aimed in particular towards the faith or the exercise of religious freedom.

[...]

To imagine that the governor during this pandemic was putting on her theological-metaphysical hat, to tell us what is the meaning of life and what matters in that pursuit, is beyond absurd. To imagine that what embassies, governments, corporations, and others have in mind when they use the designation "essential" and "non-essential personnel" is a theological-philosophical classification of what matters, is unbelievably flawed reasoning.
Needless to say, CNS has not referred to Guarnizo's analysis in any of its articles pushing the religious-freedom canard, and Jeffrey made no mention of it in his May 6 column. It seems CNS feels merely publishing his analysis and quickly moving on was enough -- wven though it completely undermines its entire agenda on this subject.
Posted by Terry K. at 12:19 PM EDT
Updated: Sunday, May 24, 2020 12:27 PM EDT