MRC Adds To CNS' Bad Take on Religion and Coronavirus
Topic: Media Research Center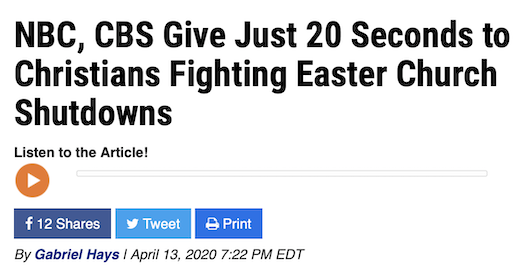 Since CNSNews.com embraced the bad take of painting the closing of mass religious services as an issue of religious liberty rather than public health, it was inevitable that its parent, the Media Research Center, would as well. The MRC's Gabriel Hays ranted in an April 13 post:
Millions of God-fearing Americans weren't allowed to go to church Easter Sunday for the first time in their lives, but two out of the three major TV news networks spent only 20 seconds on the enormous controversy. Pastors, priests and members of Christian congregations celebrating their constitutional right to be in their churches were barely mentioned.

Combined, the NBC Nightly News and CBS Weekend News programs on April 12, Easter Sunday, gave only 20 seconds to cover Christian churches that have been asserting their 1st Amendment rights to hold services. Those services were set for the holiest day in Christianity, despite state government mandates. NBC's broadcast gave just 7 seconds of airtime to these congregations, calling them defiant and CBS gave a tiny 13 seconds of coverage to these Christians it said were "ignoring" social distancing protocols.

ABC did a much better job on the other hand, airing 1 minute and 42 seconds of coverage on Christian churches still offering services Easter Sunday, provided that participants were aware of the potential risks.

Of the two broadcasts that barely covered the story, NBC Nightly News was the worst. Though it devoted 2 minutes in total to the fact that Christians all over the world were "finding meaning at home this year" via internet services, the broadcast gave hardly any attention to those seeking public gatherings.
Note that Hays included only allusions to the coronavirus pandemic and largely ignored the public health issues that forced the church gathering to close in the first place.And Hays talks a lot more about people's alleged "celebrating their constitutional right to be in their churches" more than he does any constitutional right not to have one's personal liberty violated in the form of reckless, unhealthy behavior that can spread a disease that has already killed tens of thousands in the U.S.
Posted by Terry K. at 10:45 AM EDT