MRC's Graham Predictably Melts Down Over Pulitzer Prizes Again
Topic: Media Research Center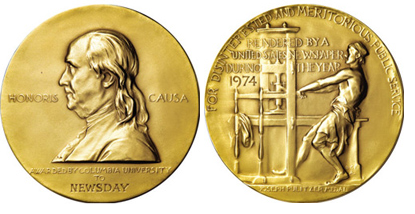 One thing you can count on from the Media Research Center is regular meltdowns anytime a journalist it despises wins an award. With the awarding of this year's Pulitzer Prizes, Tim Graham comes through again. He ranted in a May 4 post (bolding in original):
They handed out the latest Pulitzer Prizes on Monday, and once again, the liberal tilt was all over the selections, and the ceremony itself.

[...]

While many awards had a liberal tinge, two were obviously awarded for resisting Trump. In the newly created Audio Reporting category, NPR's This American Life won for an episode called "The Out Crowd" — which "illuminated the personal impact" of the Trump Administration's policy to make immigrants "Remain in Mexico" until they can be admitted.

In the Editorial Cartooning category, the winner was Barry Blitt of The New Yorker, "for work that skewers the personalities and policies emanating from the Trump White House with deceptively sweet watercolor style and seemingly gentle caricatures."

Over the previous three years, four Pulitzer Prizes for reporting were handed out for exposing Donald Trump's apparently shady deeds, from alleged Russian collusion to tax evasion. In the previous eight years, there's not a single reporting prize handed out for exposing anything about Barack Obama or his team. Democracy was never in darkness back then.
Graham does not identify what about Obama needed to be "exposed" in such a way that would warrant a Pulitzer.
Graham was particularly incensed that "the widely criticized fake-history '1619 Project'" from the New York Times won an award, even after the Times felt pressed to publish an 'update,' a 'clarification' on its central idea that slavery was 'one primary reason the colonists fought the American Revolution.' It turned out their point was not true."
That change -- more accurately stating that preserving slavery was a motivation of "some" colonists and not "all" of them -- was actually relatively minor and, despite the insistence of Graham and his right-wing media cohorts, doesn't particularly undermine the fact that racism influenced the creation of the United States and the Constitution and played a role in perpetuating the racial inequity that still plagues America today. (Graham devoted a March column to whining about this as well.)
If Graham and his MRC was as scrupulous as the Times in correcting the record when it gets something wrong -- which it's not -- Graham might have a leg to stand on. Instead, he's in "do as I say, not as I do" mode again.
Posted by Terry K. at 2:03 PM EDT