MRC Just Can't Stop Trying To Shield Fox News From Criticism (And Touting Its Great Ratings)
Topic: Media Research Center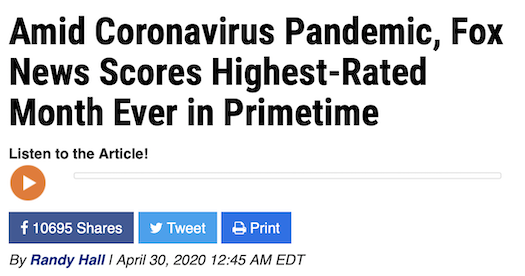 Fox News has been credibly accused of peddling misinformation about the coronavirus, and the Media Research Center -- where employees regularly appear to spout right-wing anti-media talking points -- has attacked anyone pointing that out.
Tim Graham once again showed his anti-smart people elitism in an April 21 post, sneering tha "so-called "social scientists" are also seeking to establish that Hannity has caused a wave of coronavirus deaths. A new paper from the University of Chicago's Becker Friedman Institute for Economics -- named for two free-market economists! -- reviewed "Misinformation During a Pandemic." Four academics -- Leonardo Bursztyn, Aakaash Rao, Christopher Roth, and David Yanagizawa-Drott -- compared Tucker Carlson (who apparently didn't lead people off a corona-cliff) with Hannity." The researchers argued that exposure to Hannity correlated with a greater number of deaths, compared with exposure to Carlson. Graham couldn't dispute this, of course; all he did was sneer, "It was Hannity who was really rolling out an 'expansive set of robustness tests.'"
Alex Christy complained that "CNN's Brian Stelter takes the opposite stance of whatever Fox News says," though he was actually citing research showing hydroxychloroquine -- the beloved would-be coronavirus treatment of Fox News and President Trump and, thus, the MRC -- didn't workas well as advertised and, in Christy's words, claiming that "President Trump and various Fox News personalities are endangering people by promoting it." Christy offered a rather lame defense: "It's not as Trump just pulled hydroxychloroquine of a hat. It's not as if trained health care professional are prescribing treatments based on what Trump, Fox, or CNN says. Some coronavirus patients felt the drug saved their lives."
Curtis Houck touted how "Hannity publicly demanded The New York Times implicating him in the death of 74-year-old Brooklyn resident Joe Joyce from the coronavirus," further gushing how "The letter went on to name other instances of The Times 's entries in the liberal media-wide smear campaign to inflict (perhaps fatal) damage on FNC, the network the liberal media so vehemently hate." Houck didn't note that Hannity's lawsuit has no merit; instead, he groused that the Times responded by declining an apology because it thinks the article is protected opinion under the First Amendment and Hannity's status as a public figure.
Jeffrey Lord served up his own take on the Hannity-Times battle, leaning on the well-worn crutch of whataboutism: "Whether it was the false allegation against Sean Hannity or the paper's own coverage of both American history or the Trump-Russia collusion, the problem is the same. In the words of former editor [Tom] Kuntz, this is because the paper now 'embraces partisan and results-oriented agendas.' Bingo." And Hannity doesn't have a partisan agenda?
Needless to say, in the middle of all this defense, NewsBusters' resident ratings observer Randy Hall once chimed in by cheering that "in April with Americans clammoring [sic] for sensible, sober updates on the coronavirus pandemic, viewers gave FNC its highest-rated primetime audience in history and second highest total daily ratings since April 2003 (for the early days of the Iraq War)." That, not facts, are what's really important at the MRC.
Posted by Terry K. at 9:41 PM EDT