MRC Still Trying To Shield Fox News From Criticism Over Coronavirus Misinfo
Topic: Media Research Center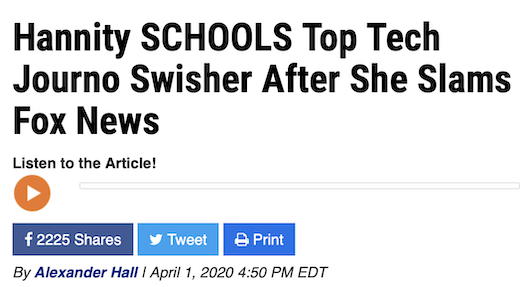 We've documented how the Media Research Center spent a good part of March rushing to the defense of its favorite news channel, Fox News, against credible accusations that it has misinformed its viewers about the threat of coronavirus. That defense campaign ran through April as well.
But first, as always, are the ratings. Once again, Randy Hall gushed: "During the first quarter of 2020, the Fox News Channel continued its reign as the highest-rated network on cable television, beating shows from both MSNBC and CNN in total day viewers and the coveted advertising bracket of people from 25 to 54 years of age." The next day, he cheered how MSNBC's ratings were STAGNANT, and a couple days after that cheered that "liberal station" CNN "has since fallen so far in the ratings that it was unable to generate even one program in the top 20 list during the first three months of 2020."
Alexander Hall portrayed Sean Hannity's meltdown over New York Times columnist Kara Swisher's calling out of Fox Newsfor its coronavirus misinformation as an example of how he SCHOOLS Swisher with a tweetstorm of whataboutism. Hall complained that Swisher "seemed to imply that Fox News hosts were downplaying the virus for political reasons" -- something neither he nor, apparently, Hannity disproved. Nicholas Fondacaro pushed more whataboutism in another apparent attack on Swisher: "In an on-air response to an article attacking him and the network, Fox News Channel host Tucker Carlson flipped the tables on The New York Times Thursday night when he called out the liberal paper for "screwing up coronavirus stories from day one."
Kyle Drennen complained that "MSNBC anchor Stephanie Ruhle kept up her network's effort to actually blame competitor Fox News for the spread of coronavirus across the country. She and her guests repeatedly suggested that Fox was providing 'misinformation' that would 'put people's lives in danger.'" Like the others, Drennen never disproves the allegation, but instead notes that Wallace had Swisher on as a guest and that "Hannity hammered her [on] Twitter."
Mark Finkelstein did a lot of huffing about an MSNBC segment in which Joy Reid and Gabriel Sherman advanced the idea that Fox News could be sued over its coronavirus misinformation:
There's the "novel coronavirus"—and then there's the "novel legal theory" concerning it floated by Joy Reid, pursuant to which Fox News could somehow be legally liable for the death of its viewers from the virus. So much for all the alarm in the liberal media about legal punishments for news organizations in the Trump era.

[...]

Let's also consider Sherman's claim that Fox "insiders" told him that there was real concern within the network that it could be exposed to legal action by viewers who died from the virus. What kind of network "insider" could conceivably make such a potentially hugely damaging admission to any reporter, let alone one famously hostile to Fox News? Sherman is the author of a highly unflattering book about Fox News founder Roger Ailes.
Curtis Houck served up more whataboutism to deflect, complaining that while CNN has engaged in "venomous, tiresome Fox News-bashing," the channel was "holding its March 5 upfront event (dubbed the CNN Experience) with hundreds in attendance, plus an overflow room. Instead of taking precautions and following competitors like Comcast (parent company of NBC News) and Fox News in canceling their upfronts, CNN parent company WarnerMedia went ahead with its flashy Hudson Yards confab."
Tim Graham grumbled that the Washington Post noted how Fox News parroted Trump in pushing hydroxychloroquine as a coronavirus treatment before all the facts are in about its effectiveness, choosing to offer his own creative interpretation of what the channel did: "Fox News has promoted this drug as a hopeful sign, which some coronavirus sufferers have touted as an amazing cure, and mocked the liberal media that have hounded Team Trump for daring to say positive things about it on television." Needless to say, Graham played whataboutism too, complaining that the Post "completely avoided the 'miracle cure' story that Carlson and Laura Ingraham put on this week – interviews with Michigan state Rep. Karen Whitsett, a Democrat from Detroit, who came down the coronavirus, and credits her doctor prescribing hydroxychloroquine – and President Trump touting the anti-malarial drug on TV – for saving her life." That wouljd be the story in which Graham himself proclaimed hydroxychloroquine to be Trump's "miracle drug."
Houck returned to go full insult mode in an April 20 piece:
In the repugnant, never-ending liberal media crusade to not only annihilate but mortally wound Fox News (thus putting thousands out of work), New York Times columnist Ginia Bellafante took the not only false but grotesque plunge in her April 18 column blaming FNC for the April 9 death of 74-year-old Brooklyn bar owner Joe Joyce from the coronavirus.

Before diving into their moronic falsehoods, here are the relevant highlights of the all-emotion and fact-free screed[:]

[...]

It goes without saying that it's a tragic story and Bellafante clearly feels pain for the Joyce family and served as a reminder that the over 41,000 deaths consist of real human beings.

But as the great Comfortably Smug tweeted, the Hannity quote came on March 8 and thus it was "OVER A WEEK AFTER" Joyce's cruise left. The Washington Examiner's Jerry Dunleavy added that Joyce returned March 14, and then his bar the following day as the city had yet to be shuttered (thanks to far-left Mayor Bill de Blasio), leaving almost three weeks between his return and his death.

Therefore, Hannity's comments were not only a moot point, but it's an outright falsehood to note them otherwise.
It's an unfortunate condition of the MRC that there's enough of a doubt about its commitment to basic human decency (when it comes to non-conservatives, that is) that he must express empathy that should otherwise go without saying. (And speaking of things that will go without saying, Houck won't tell you that "the great Comfortably Smug" is kind of a creep in real life and has a long history of sh*tposting.)
What Houck also won't tell you: While the Times did make a mistake in linking that particular Hannity quote to the death of the manwho went on the cruise, the Washingotn Post's Erik Wemple pointed out that "Hannity, after all, couched coronavirus as a political ploy before and after Joyce left for his cruise."
Posted by Terry K. at 10:34 PM EDT
Updated: Monday, May 4, 2020 12:44 AM EDT