MRC: Only People As Far-Right As Us Can Judge Conservative Media, Fox News
Topic: Media Research Center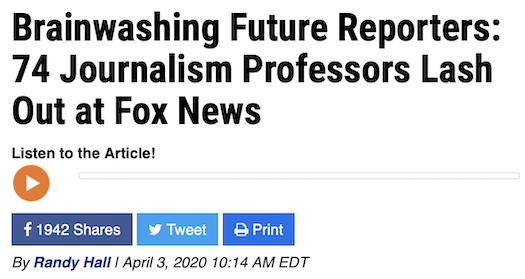 The Media Research Center is so insular and so convinced that the conservative media of which it is a part is incapable of doing wrong that it will not accept any criticism of conservative media from non-conservatives -- which we're quite aware of -- and, perhaps surprisingly, even from other conservatives.
An example of the former was an April 3 post by Randy Hall attacked a group of 74 journalism professors who signed a letter criticizing Fox News for spreading information about the coronavirus pandemic. The headline: "Brainwashing Future Journalists." As with most other MRC attempts to distract from criticism of Fox News, Hall makes no real effort to defend Fox News but instead goes after the critics; along with the "Brainwashing Future Journalists" headline -- which he doesn't substantiate either -- he plays a little whataboutism: "Even before the scathing letter was made public, FNC personalities had joined forces to create a public service announcement about the outbreak. Apparently, the 74 professors who signed the letter have no such qualms about the quality of reporting done by FNC's liberal rivals, MSNBC and CNN."
Tim Graham served up an example of the latter in his April 10 column, in which he complained that "the liberal Columbia Journalism Review" interviewed nearly two dozen writers for conservative news websites for their views on the state of conservative media. But as far as Graham was concerned, they weren't conservative enough because they were open to criticizing Dear Leader -- er, President Trump:
Some felt conservative media were "marginalizing conservative perspectives critical of Trump's honesty and character." That's not surprising, given that the trio of professors interviewed "conservatives" at The Washington Post and The Bulwark, a red-hot "Never Trump" outpost. Asked what makes for an ideal conservative journalist, Bulwark editor Jim Swift joked "the ideal conservative reporter or journalist usually just leaves conservative media as soon as they possibly can," since it's not lucrative.

Surely, one could be both a conservative journalist and a critic of Trump's "honesty and character." It's just that sites like The Bulwark are harshly critical of most conservatives, and end up sounding much more like Vox than Fox. They sent freelancer Molly Jong-Fast to the Conservative Political Action Conference. The "highlight of the hellscape," she proclaimed, "was seeing Laura Ingraham attempt a comedy set. Laura said that Democrats want post-birth abortions and made a number of extremely unfunny jokes about Jim Acosta."

Feeling Jim Acosta's pain is not a "conservative media" norm.
Graham didn't explain why refusal to criticize Trump is the mark of a "real" conservative. Instead, he complained that writers thought their own conservative outlet was well-written and credible while their rivals were less so, citing one such comment from a Daily Caller writer: "That's not going to win friends and influence people for the Daily Caller. This is not what you find in the major media. You don't often see the Washington Post saying to interviewers 'the New York Times is far less reliable and deep-thinking than we are.'"
Graham makes sure to work his employer's agenda into the discussion: "These professors should be welcomed in finding the conservative media to be worth academic attention. But they seem to be dismissing the overwhelming bias that provides so much energy and loyalty to conservative outlets." But he ignores the fact that conservative media critics -- like the MRC -- never hold conservative media to the same standards it demands from the "liberal media." That makes Graham and his co-workers bad-faith critics.
Posted by Terry K. at 11:55 PM EDT
Updated: Wednesday, May 6, 2020 1:06 AM EDT