MRC's Hypocrisy On Finding Pandemic 'Silver Lining' Continues
Topic: Media Research Center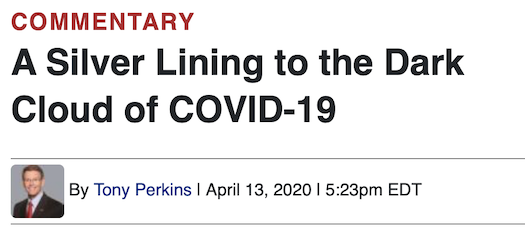 Last month, we noted that the Media Research Center has been upset that some people claim to have noted silver linings to the coronavirus pandemic -- even though its "news" division, CNSNews.com, has published commentaries also claiming to find silver linings. The hypocrisy hasn't stopped:
While the MRC was getting outraged over that, CNS published an April 13 column by Tony Perkins literally headlined "A Silver Lining to the Dark Cloud of COVID-19," in which he gushed that while thousands may have died, but people are "turning to God":
The coronavirus is turning people in the United States away from many things. Thousands of workplaces are empty. Shopping malls are vacant. Movie theaters, restaurants, schools, and even many public beaches are closed.

But the virus is turning us toward one particular thing: prayer.

If there's a silver lining to the dark cloud of COVID-19, it's that we're turning to God for guidance and protection. Social distancing, which is separating us from others for the sake of our physical health, has given people more time to draw near to God, which is certain to affect our spiritual health.

[...]

Our economy is being shaken as a vicious disease moves like an invisible invader throughout our country. But the hope offered by Jesus Christ is as real and vital as it was the first morning of his empty tomb. "He is not here; he has risen," said the angel to a group of women wondering where Christ's body had gone. He is alive, and he is eager to enter your life.

The uncertainty of life has never been more evident, but so too is the reality that the God who made us is unchanging — the same yesterday, today, and forever. We can be thankful that he is closer to us than the air we breathe and is only a prayer away.
Nobody at the MRC has yet complained about Perkins being "TONE DEAF" or being "grotesque" for finding something good in something bad. Wonder why...
Posted by Terry K. at 6:05 PM EDT
Updated: Monday, May 4, 2020 6:07 PM EDT