CNS Adds Another Dubious Doc To Its Pro-Trump Brigade
Topic: CNSNews.com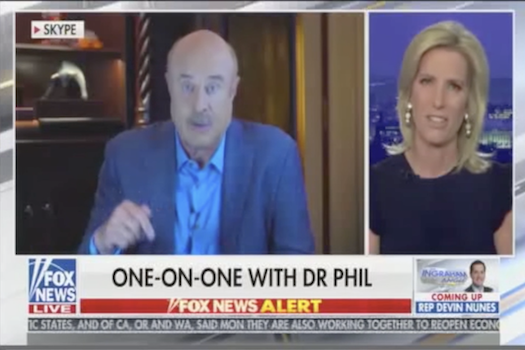 So Dr. Drew and Dr. Oz weren't the only TV doctors CNSNews.com relied to put out dubious yet Trump-friendly views on the coronavirus pandemic. Melanie Arter uncritically transcribed a Fox News segment (of course) in an April 17 article:
Dr. Phil McGraw, host of the "Dr. Phil Show," told Fox News' "Ingraham Angle" on Thursday that the quarantine is doing more harm than good, because of the health risks of isolation, depression, and anxiety.

"This is invisible. I can't show you an x-ray of depression. I can't show you an x-ray of anxiety, but the fact of the matter is the longer this lockdown goes on, the more vulnerable people get and it's like there's a tipping point. There's a point at which people start having enough problems in lockdown that it will actually create more destruction and actually more death across time than the actual virus will itself," he said.

McGraw said that "250 people a year die from poverty, and the poverty line is getting such that more and more people are going to fall below that because the economy is crashing around us, and they're doing that because people are dying from the coronavirus," McGraw said.

"I get that, but look, the fact of the matter is we have people dying," McGraw said, adding that "45,000 people a year die from automobile accidents, 480,000 from cigarettes, 360,000 a year from swimming pools, but we don't shut the country down for that, but yet we are doing it for this and the fallout is going to last for years because people's lives are being destroyed."
Arter didn't mention that Dr. Phil is a non-practicing psychiatrist, not a medical doctor, which makes any opinion he has highly suspect -- and this one in particular. Thus, it falls to an actual news outlet to point out that "you can't contract 'drowning':
It's mostly irrelevant, but McGraw's numbers on swimming pools are pretty far off the mark. Does he really think that nearly as many people drown in swimming pools as die from smoking? If they did, we would absolutely want to implement stronger protections for swimmers. In reality, though, there are about 4,000 deaths a year from drowning, though it's not clear how many are in pools. His number on deaths from cigarettes is accurate; he overstates the number of deaths in automobile accidents by about a fifth.

There are two critical distinctions between those deaths and the tens of thousands of deaths expected this year of covid-19, the disease caused by the coronavirus. The first is contagion. The second is preventive measures.

[...]

Perhaps more important is the fact that the number of deaths from car accidents and swimming occur in the context of broad preventive measures. There used to be a lot more deaths from car accidents per capita — so we mandated speed limits and seat belts and introduced new safety features and stopped making cars out of the structural equivalent of balsa wood. We fixed the things contributing to the problem. It's not and can't be foolproof, but it's far better because we took action. Same with swimming: We insisted that people put up fences around pools and have lifeguards at the beach. We do things to keep people alive.

In the case of the coronavirus, the number of deaths that are expected is because we're doing what we can to tamp down the number of deaths. If you think that the 33,000 deaths to date of covid-19 are comparable to the number of deaths in car accidents, understand that the toll would have been far higher without enacting the social distancing measures that McGraw and Ingraham find so onerous. The entire problem with the coronavirus is that it's new, and we don't have many tools we can implement to hold it in check.
Because Arter and CNS are part of the pro-Trump state media, they will focus on reporting "news" designed to support President Trump, regardless of its factual accuracy or moral responsibility.
Posted by Terry K. at 12:27 AM EDT