Speaking of Mass Hysteria...
Topic: WorldNetDaily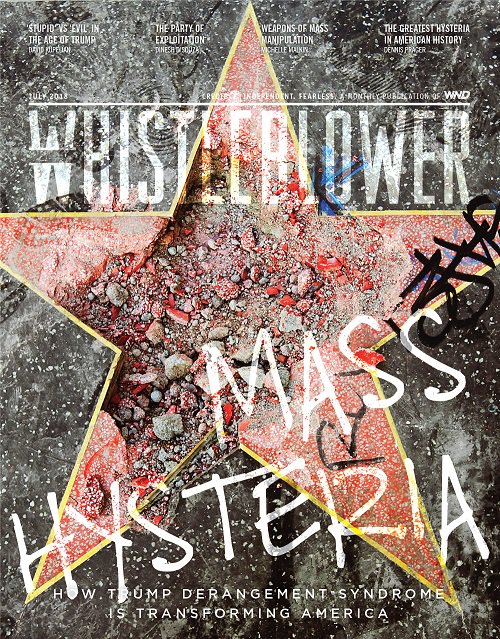 WorldNetDaily's promotion for its sparsely read Whistleblower magazine has the theme of "Mass Hysteria," and it's promoted thusly:
Americans are living through an era of mass hysteria, in which Democrat politicians, entertainment celebrities and media pundits daily compare the president of the United States to Adolf Hitler and his supporters to Nazis, fascists and white supremacists.

[...]

After all, if Donald Trump actually were another Hitler, virtually no form of "resistance" would be morally off-limits in the heroic quest to save the world from another Holocaust. Indeed, all-out resistance would become a moral imperative.

Thus it is that Americans daily witness the surreal spectacles of leftwing mobs in action – of White House Press Secretary Sarah Huckabee Sanders, Trump aide Steven Miller and Homeland Security Secretary Kirstjen Nielsen all being harassed by frenzied, screaming mobs while trying to eat dinner in various Washington, D.C.-area restaurants (in Sanders' case, actually being ejected from the premises). Florida's pro-Trump Attorney General Pam Bondi is similarly abused and chased out of a Tampa movie theater (ironically there to see the new Mr. Rogers documentary, "Won't You Be My Neighbor?"). All the while, Rep. Maxine Waters hysterically urges angry Trump-haters to ambush the president's staffers everywhere, Obama CIA chief John Brennan accuses Trump of treason, Rep. Steve Cohen calls for a military coup to oust the president, antifa members openly brag to video journalists that they would "murder" the president if he showed up at their rally, actor Peter Fonda tweets "We should rip Barron Trump from his mother's arms and put him in a cage with pedophiles," MSNBC contributor Jill Wine-Banks compares the president's meeting with Vladimir Putin to Pearl Harbor, the Cuban Missile Crisis and Kristallnacht, while another MSNBC pundit, Donny Deutsch, thunders on-air that every single Trump voter in America is – quote – a "Nazi."

This is textbook mass hysteria, approaching that which led to the Salem witch trials.

In reality, Hitler murdered 11 million people, while Trump has murdered none, so obviously Trump is not Hitler.
This is all projection, of course. President Obama never murdered a single person, let alon 11 million people, but that didn't keep WND from spending eight years likening Obama to Hitler, and it certainly never worried about the "mass hysteria" it might cause in doing so.
And as far as accusing Trump of treason goes, WND did that on a regular basis. For example:
WND managing editor David Kupelian repeated much of this in an Aug. 30 column, including the part about how Donny Deutsch said "that every single Trump voter in America is – quote – a 'Nazi.'" (That's not quite what he said.) But Kupelian seems to have forgotten how he denigrated people who voted for Trump. Here's his description of them following the 2012 election:
As a nation – and I'm speaking now of the voting majority, not all of us, obviously – we have squandered the priceless inheritance of our forefathers. We have wandered off into a far country and wasted our substance on immorality and profligate spending. We mock the faith of our fathers. We ignore the Constitution they bequeathed to us. We spit on the moral code they gave us, on which America and Western Civilization were founded. Our wealth – once the natural reward of the mighty engines of industry and innovation that thrive in a free country – is largely an illusion today, based on debt.

[...]

Remember, America's problem is not Barack Obama. Our problem is that half of our population, after watching a lying, supremely demagogic president methodically unravel America for four excruciating years, could see fit to elect him a second time. Our problem is that millions of us think it's perfectly fine to rip apart innocent children before they're born, and to steal from those who work hard and "redistribute" their goods to others. Our problem is that millions of us think it's wonderful and proper for men to marry men and women to marry women and to persecute those who rightly point out that this is both immoral and mad.

Our problem is that millions of us – and more to the point, virtually the entirety of government, academia, popular culture and "mainstream media" – embrace the most absurd, preposterous and destructive lies as though they were great and enlightened truths.

Millions of people living in American today are, quite literally, madly in love with lies, deception and selfishness.
Kupelian does manage to avoid calling Obama voters Nazis, but he certainly goes up to that line by finding almost every other derogatory term in the thesaurus.
Once again, WND is complaining that other people are doing to Trump what it did to Obama. The hypocrisy is staggering.
Posted by Terry K. at 2:04 AM EDT