MRC Invents A 'Sexist' Attack on Sarah Sanders
Topic: Media Research Center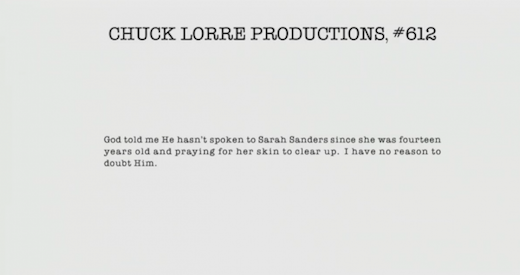 The headline on Rebecca Downs' Feb. 7 Media Research Center post blared, "'Big Bang Theory's Chuck Lorre Launches Ugly, Sexist Attack Against Sarah Sanders." In it, Downs asserted that Lorre "targeted White House Press Secretary, Sarah Huckabee Sanders, as well as her prayer life and her looks," further huffing: "It's also been established that it's sexist and wrong to go after women for their looks. Or is it only liberal women that this applies to?"
So what did Lorre say in his regular end-of-show vanity card? "God told me he hasn't spoken to Sarah Sanders since she was fourteen years old and praying for her skin to clear up. I have no reason to doubt Him."
Downs did not explain how making a joke about a teenage Sanders dealing with acne -- a common condition that afflicts both boys and girls of that age -- is "sexist." Perhaps because it is not, in fact, a "sexist" comment.
This is not the first time that the MRC has manufactured a "sexist" attack by someone against Sanders. Following Michelle Wolf's performance at last years White House Corresdpondents Dinner, it decided that Wolf's quip that Sanders "burns facts, and then she uses that ash to create a perfect smoky eye" was a personal attack on her looks and not a comment about her mendacity in defense of President Trump:
"That sure sounds like a slam on her appearance," P.J. Gladnick declared.
"Wolf made jokes at the expense of Sarah Sanders's looks," Scott Whitlock insisted.
Wolf made "personal attacks about [her] appearance,"the MRC uncritically quoted Fox News' Ed Henry as saying.
It seems that the MRC is trying to shut down discussion of Sanders' job performance by dismissing any criticism of her as "sexist."
Posted by Terry K. at 3:46 PM EST