CNS Skips A Controversy In Reporting on Trump Judicial Nominee
Topic: CNSNews.com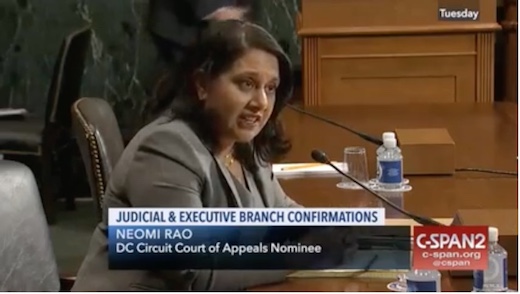 CNSNews.com took an unusually high -- albeit highly selective -- interest in one Trump judicial nominee's Senate confirmation hearing.
Seemingly suggesting that the nominee wasn't far enough to the right, Melanie Arter wrote in a Feb. 6 article:
D.C. Circuit Court of Appeals judicial nominee Neomi Rao told the Senate Judiciary Committee on Tuesday that "there's an overwhelming scientific consensus that there is climate change" and that "human activity does contribute to climate change."

When questioned on her personal beliefs about when human life begins, however, she said it would be inappropriate to answer because some cases relating to the issue could come before the court.
But another article the same day, by Emily Ward, seemed to come to Rao's defense by highlighting a religion-related question to her:
On Tuesday, while questioning judicial nominee Neomi Rao, who has been nominated by President Donald Trump to serve on the D.C. Circuit Court of Appeals, Sen. Cory Booker (D-N.J.) asked Rao whether she believed gay relationships "are a sin." This drew criticism from Sen. Ted Cruz (R-Texas), who pointed out that the Constitution prohibits religious tests of those seeking federal office.
Ward did concede there was a legitimate basis for Booker's question, noting that Rao had previously criticized a Supreme Court ruling that decriminalized same-sex relationships.
Ward followed up with a Feb. 13 article highlighting Republican criticism of questions to judges that "focused on the nominees' religious beliefs," citing Booker's question to Rao as "only the most recent in a series of incidents in which Democrat senators have questioned nominees on their personal religious beliefs."
Strangely, none of these CNS articles cited a much bigger controversy involving Rao's beliefs: writings in college that seemed to argue that victims of date rape had it coming beause they drank too much. Rao apologized for those writings during the hearing -- something CNS didn't deem to be newsworthy.
Posted by Terry K. at 12:38 AM EST