MRC Upset That Trump Was Unfavorably (Though Not Inaccurately) Described At Bush Funeral
Topic: Media Research Center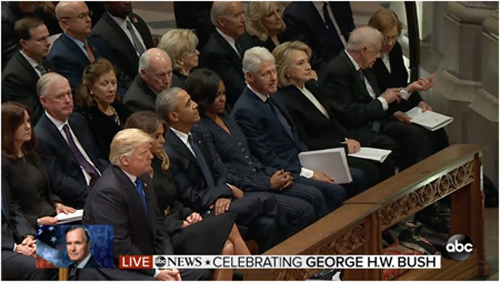 The Media Research Center is so fawningly pro-Trump that it sees any criticism of him as "liberal bias." And when media commentators couldn't help but notice the difference in overall demeanor between President Trump and President George H.W. Bush at the latter's funeral, the MRC fumed.
In a Dec. 6 post hyperbolically headlined "Washington Post Rips Trump a New One Three Times at Bush Funeral," Tim Graham complains in a fit of whataboutism:
The Washington Post loves to present President Trump as boisterously snide...and quite obviously, they can't imagine anyone would apply that description to them. On Wednesday night, the Post website was boasting at least three articles ripping into Trump's behavior at the funeral, or his bad optics. This isn't a "newspaper." It's an Insult Aggregator.

Let's acknowledge the elephant in the room: the president did present a picture they could suggest was bored or cranky. He only shook hands with the Obamas. Fine. But these "reporters" -- who sound much more like editorial writers -- were trying to make Trump, not Bush, the big story. Even their Thursday headline praising the late president -- "President, patriot, gentleman" -- could be seen as another knock on the current president.
Graham went on to huff that a Post story on the funeral, in which all other living ex-presidents appeared alongside Trump, "described others in the front row...by how Trump had insulted them," grousing: "Notice the Post could have done this 'reporting' both ways....listing the insults Barack and Michelle Obama offered about Trump, the insults Bill and Hillary Clinton lobbed against Trump, and then the insults Jimmy Carter threw at Trump. But the problem is the Post deeply enjoyed anything they said."
The MRC whining continued:
P.J. Gladnick claimed: "It was a funeral for former President George H.W. Bush but all the [MSNBC] show's panel could focus on Wednesday aftenroon was Trump, Trump, Trump. Any mention of the recently deceased was only in relation to President Donald Trump." He added: "Just a reminder again to everyone that Trump was sitting there not saying anything yet his mere presence at the funeral inspired this laughable outbreak of TDS among the panelists."
Nicholas Fondacaro asserted: "They just couldn't help themselves. During their Wednesday evening reports on the deeply touching and emotional funeral service for the late President George H.W. Bush at the National Cathedral, broadcast networks ABC, CBS, and NBC had to get in their digs against President Trump for his behavior (or lack thereof). One even touted how Trump managed to keep his mouth shut about Bush all week."
Clay Waters insisted that a New York Times article's "focus was on attacking one of the attendants: President Trump, through biased interpretation of body language and some light mind-reading."
Mark Finkelstein shot back at a commentator who argued that giving credit to Trump for not screwing up anything during the Bush funeral is "a very low bar": "God rest the soul of George H.W. Bush. But God forbid that President Trump should receive credit for according H.W. all possible honors and conducting himself with grace during the funeral service."
None of these MRC posts, by the way, dispute the accuracy of the observations made, just the fact that they were made at all.
Posted by Terry K. at 10:33 AM EST