WND's Medical Misinformer Still Fearmongering About Disease-Ridden Immigrants
Topic: WorldNetDaily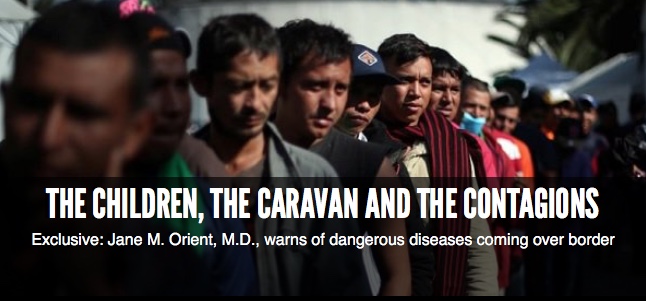 Medical misinformer Jane Orient is back again in a Dec. 3 WorldNetDaily column to fearmonger about filthy, disease-ridden brown people at the border:
Thousands of migrants are crammed together in Tijuana, many outdoors, and about a third of them are already sick. Without sanitation, outdoors in the rain, many more will become ill. Several cases of tuberculosis, chicken pox, and HIV have already been reported.

The unseen travelers also include measles, Chagas disease, hepatitis and many other dangerous microbes. You can see the lice that serve as vectors of diseases such as typhus if you look closely. Workers in migrant reception centers have spent hours combing nits out of little girls' hair – but they could be fired for talking about it.
We woudl remind Orient that she has no credibility on this issue. As we documented the last time she did this (last month, actually), Orient -- in her role as head of the fringe-right Association of American Physicians and Surgeons and managing editor of the AAPS' Journal of American Physicians and Surgeons -- published a 2005 article featured similar ranting against filthy foreigners and a massively false claim that cases of leprosy in the U.S. have exploded because of immigration. As far as we know, Orient has yet to issue a correction despite the claim being debunked years ago.
But Orient was not done fearmongering:
Then there's that mysterious polio-like illness – AFM, for acute flaccid myelitis – that has struck hundreds of American children. Some would be in "iron lungs" if we didn't use a different kind of breathing machine today. AFM was first noted in 2014, just coincidentally in time and space with the dispersal of thousands of Central American children into U.S. schools. More prominent at that time was an outbreak of a deadly respiratory illness that sent hundreds of American children to intensive care units. Both types of symptoms can probably be caused by enterovirus D68, which happens to be endemic in Central America. Any connection? The CDC (Centers for Disease Control and Prevention) says it doesn't know.
Orient is engaging in malicious speculation. No direct link between enterovirus D68 and AFM has been found -- or to anything else and AFM. And Orient won't tell you that enterovirus D68 has been present in the U.S. for many years before 2014, since that would shoot down her anti-filthy-immigrant narrative.
But who needs facts when Orient isn't done fearmongering? And she still wasn't:
Public health can't deal with a horde violently storming the border. What the mainstream press doesn't show is that 80 percent of the crowd are men, mostly of military age. The threats they pose to the health of our citizens (and that of other migrants) include violence, sexually transmitted diseases from rape (a large percentage of the women have been molested) and illicit drugs that pour through while Border Patrol agents may be changing diapers.
Too bad for Orient that she can't be trusted on this issue.
Posted by Terry K. at 1:34 AM EST