WND Ignores Trump, Dershowitz Role In Pedophile Scandal -- But Hypes Clinton
Topic: WorldNetDaily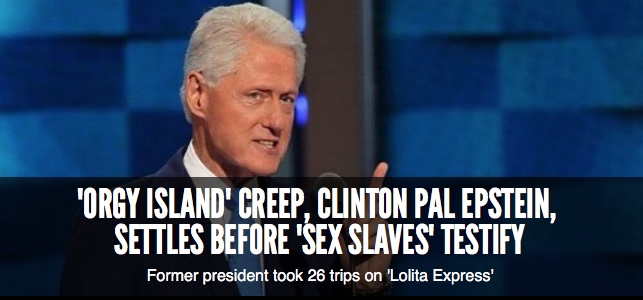 An anonymously written Dec. 4 WorldNetDaily article tried to be as salacious as possible:
The Bill Clinton-linked financier accused of sexually abusing women on his "Orgy Island" getaway agreed to a last-minute settlement that likely means none of his accusers will testify in court.

Jeffrey Epstein, 65, allegedly operated a sex ring at his mansion in Palm Beach, Florida, a residence in New York City, and his private-island estate in the Virgin Islands, dubbed by some "Orgy Island."

The deal was announced Tuesday as jury selection in a civil lawsuit brought by a lawyer for his accusers was set to begin, Fox News reported.

Fox News said court documents it obtained in 2016 showed former President Bill Clinton took at least 26 trips on Epstein's private jet, known as the "Lolita Express."

The former president apparently ditched his Secret Service detail on some of the excursions, Fox News said.

Epstein's jet was said to be outfitted with a bed where passengers had group sex with young girls.
Note that despite all the salacious implication, WND provides no evidence whatsoever that Clinton ever sexually abused anyone. And completely censored in the article is the connection between Epstein and Donald Trump.
Politico reports that Epstein "was a regular for several years at Mar-a-Lago. Testimony in a prior court case indicated that Trump flew at least once on one of the planes Epstein owned and Trump's phone numbers were in Epstein's personal phone directory." One of Epstein's victims, a 15-year-old girl, was recruited by Epstein while working as a towel girl at Trump's Mar-a-Lago club.
Also implicated in the Epstein case is lawyer Alan Dershowitz. Not only does he serve as Epstein's attorney, one of the girls Epstein enticed into his operation -- as it happens ,the same one who was recruited from Mar-a-Lago -- claims to have sex with Dershowitz several times. Dershowitz has long denied the allegation.
While Dershowitz has generally been considered to be a liberal, his defense of Trump made him a WND favorite. It has, among other things, posted numerous videos from Israeli channel ILTV of a segment called "One on One with Alan Dershowitz," touted Dershowitz's claim about the criminalization of political differences and his lament that "The attacks on President Trump by onetime personal lawyer Michael Cohen are hurting America."
Meanwhile, the same day, WND editor Joseph Farah wrote a column demanding that Alexander Acosta -- who was the federal prosecutor that helped work out a deal that let Epstein serve only 13 months in prison -- resign his current position as Trump's labor secretary and most definitely shouldn't be considered as a candidate for attorney general. Farah didn't mention Epstein's connection to Trump and Dershowitz, though surprisingly, he didn't throw in a gratuitous Clinton reference.
That's an unusual show of restraint for Farah, who hates Clinton so much he's still clinging to Vincent Foster conspiracy theories.
Posted by Terry K. at 12:18 AM EST