Junk-News Purveyor Farah Complains About Junk News
Topic: WorldNetDaily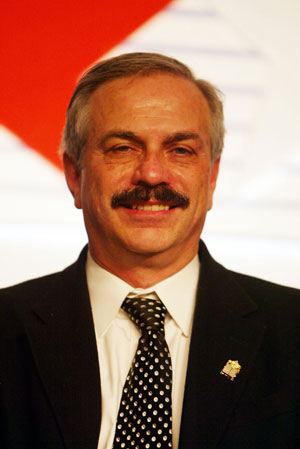 Oh, the irony. WorldNetDaily editor Joseph Farah starts off his Dec. 6 column by declaring that "I like to think God created me to do journalism." He goes on to complain:
I'm seeing what's happening in the world of journalism. With hundreds of thousands more bloggers and commentators, analysts and opinion-ators seemingly springing forth, does anyone even appreciate real journalism anymore?

Just look at how many days it took for a super-solid, weighty piece of investigative excellence like the Miami Herald series on that Jeffrey Epstein kiddie sex fiend to be read. It still hasn't really caught fire with most Americans. Most are too busy falling for month-old click bait.

It's not that there aren't enough playing in the journalism world. It's just that they are all desperately, wistfully seeking Google-Facebook approbation – and there's not enough of it to go around.

For every story written and published somewhere on the internet, there are hundreds, possibly thousands, of other copycat stories written. There's so much plagiarism, nobody notices anymore; nobody cares anymore.

There's little discernment by news consumers about quality. And, how could there be? There's just too much junk news out there – which may be a greater danger than fake news.
Ironic because WND has been one of the biggest purveyors of junk news (birtherism, Seth Rich) and fake news (a shockingly, depressingly large amount) on the Internet that also tries to masquerade as a real "news" organization.
Farah's irony continues:
Now consider this: Up until a few years ago, there was nothing I considered more meaningful and fun in my life than journalism – whether it was creating it or watching it. More recently, I have the feeling I am not seeing anything new, nothing I haven't seen before, like there's nothing new under the sun.

Must every story have a political agenda?

Are there no more good human-interest stories to be told anymore?

Is any news organization ever again going to devote the resources and time to a muckraking investigative series if it's going to be here today and gone tomorrow?
See above for the fake and junk news WND published that apparently made Farah's life "meaningful." And isn't WND pretty darn close to being here today, gone tomorrow?
Farah concludees his column by outlining his definition of "a true believer when it comes to journalism," which includes: "It's someone who personifies fairness, fearlessness, credibility, independence and indomitability of spirit," adding, "It's not just individuals who believe in those things. It's also institutions that believe."
Farah and WND arguably meet some of that. But the key part there is credibility -- and Farah and WND squandered that a long time ago.
Posted by Terry K. at 3:41 PM EST