MRC Mad The 'Conservative Backlash' It Orchestrated Got Called Out For What It Is
Topic: Media Research Center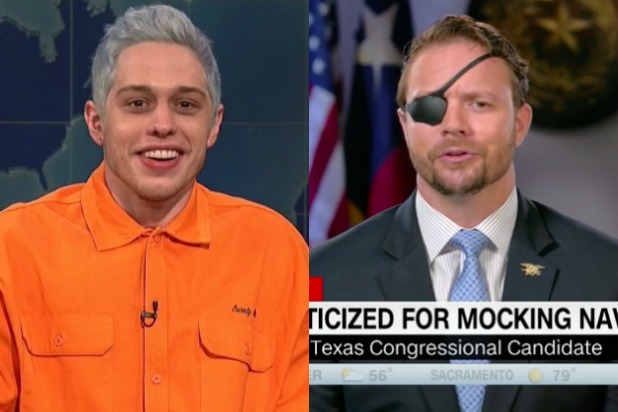 Jacob Comello whined in a Nov. 5 Media Research Center post:
When a conservative outlet or personality says something offensive, the media will rush to report the incident (often divorced from context or slyly edited.) Another conservative outrage against decency. When a liberal does it, you don't often hear about the episode until there's a "conservative backlash" to report.

Consider Pete Davidson mocking the war wounds of a decorated Navy SEAL on the Nov. 3 Saturday Night Live. Dan Crenshaw served numerous combat tours before losing an eye in Afghanistan, requiring him to wear an eye patch. Now he's running for the House of Representatives from Texas. Davidson showed a photo of Crenshaw in the "Weekend Update" segment, saying, "You may be surprised to hear he's a congressional candidate from Texas and not a hitman in a porno movie. I'm sorry, I know he lost his eye in war, or whatever."

Numerous media outlets didn't even cover the event itself and instead resorted to - you guessed it - conveying the 'conservative backlash' to Davidson's jeering.
But Comello is complaining about what the MRC exists to do. It worked hard to create the "conservative backlash" to Davidson's joke. The MRC cranked out a whopping five posts in the two days between the joke being told and Comello's post:
The MRC worked hard to create this "conservative basklash." Comello probably should not be attacking it.
"The backlash didn't stop, either. Bozell and Tim Graham devoted a spelentic column dedicated to attacking Davidson as a "loud-mouthed, spoiled punk," only slightly pausing to acknowledge that Davidson's firefighter father died in 9/11. The two again listed the show's advertisers, adding: "These merchants should think more than twice about the garbage they're making possible."
(Yes, this is coming from the same guy who called President Obama a "skinny ghetto crackhead.")
Over at the MRC's "news" division, CNSNews.com, conservative backlash was the marching order as well. CNS repeated Bozell's rant, complained a video that included the "offensive" joke was "still posted on YouTube, and assigned a reporter to "repeatedly contact[] by phone and email each of the 24 companies that advertised on the Nov. 3 episode of SNL" to laboriously read Davidson's joke and ask if they "intend to continue advertising on Saturday Night Live."
When Davidson had Crenshaw on the following week's "SNL" to apologize, the MRC went into victory mode. A post by Fondacaro claimed that Davidson's joke 'united the left and right in outrage" (it did?) and gushed over Crenshaw for showing "great class," and Drennen touted how NBC's "Today" show praised Crenshaw's handling of it. At CNS, Craig Bannister also highlighted the apology while also complaining that "Davidson's insulting video segment is still featured on SNL's YouTube channel."
So, stop complaining, Jacob. Your employer's "conservative backlash" worked as intended.
Posted by Terry K. at 2:09 PM EST