WND Hides Fact That Mom's Court Case Against Transgender Teen Is Moot
Topic: WorldNetDaily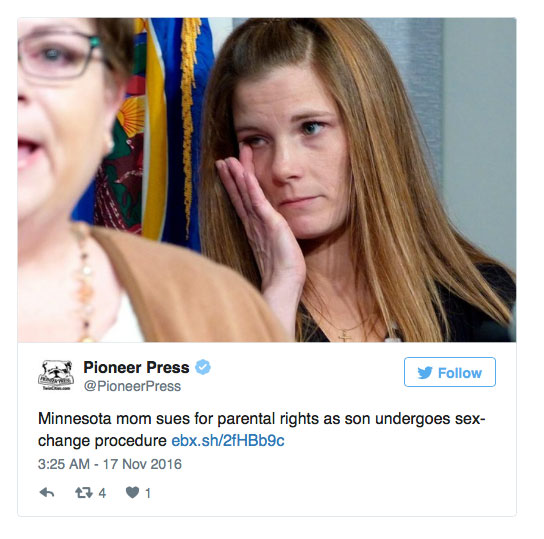 WorldNetDaily has long misled about a Minnesota case in which a mother is trying to establish that her transgender child is not emancipated from her, despite not living with her for two years and despite allegations of abuse.
Joe Wilson picks up the misleading baton for an August 3 WND article:
A Minnesota mother is trying to deal with the fallout of a violation of her parental rights that led to her son being pushed through sex-change treatments without her knowledge.

Anmarie Calgaro is appealing District Judge Paul Magnuson's decision to dismiss her lawsuit over the actions by the local county, school district and health officials.

The Thomas More Society said Magnuson "admitted that the boy was not legally emancipated by a court order and agreed that Calgaro's parental rights 'remained intact.'"
Just one problem with all of this, which either WND nor the Thomas More Society (whose press release Wilson is rewriting) admit: The child is no longer a minor. As a filing that's part of Thomas More's appellant's appendix for the appeal notes, the child in question was born in July 6, 1999, which means she has turned 18.
Which also means that the teen is now legally considered an adult, and parental control has ceased to be an issue. Which also means this whole case probably isn't about the case itself -- it's a vehicle a right-wing legal group to push its agenda through the courts.
Of course, WND won't tell you that either.
Posted by Terry K. at 10:42 PM EDT