Newsmax Still Won't Disclose It Published Corsi's Book
Topic: Newsmax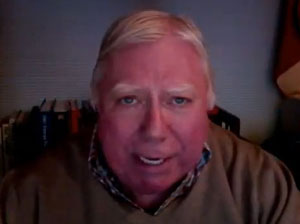 We've seen before that as conspiratorial writer Jerome Corsi gets deeper into trouble as part of Robert Mueller's Trump-Russia investigation, Newsmax is reluctant to admit that it, under its Humanix Books division, published his most recent book, "Killing the Deep State."
And so it is again in a Nov. 12 Newsmax article by Jason Devaney noting that Corsi "revealed in a new interview he expects to be charged with a crime stemming from the Russia investigation." Regarding Corsi's book, Devaney vaguely wrote only that "His most recent book, 'Killing the Deep State: The Fight to Save President Trump,' is a New York Times bestseller." It did, however, link to an offer promoting the book.
On Nov. 23, though, Newsmax followed up with a message to its mailing list under its "Moneynews" banner exploiting Corsi's legal troubles to sell his book:
We told you this would happen. Now he's terrified — afraid for his life.

Look, they're after him big time — the Deep State.

America's shadow government is gunning hard for the man who exposed the truth...

The highly respected author and commentator who revealed the dark money trail in Washington — from Clinton to Obama to Comey to Lynch and scores of others in the highest-ranking positions in Washington.

[...]

What are you waiting for? This is, quite possibly, the most explosive book on Washington ever written.

It's so shocking and so revealing we decided to foot the bill and just GIVE IT TO YOU — FREE.

Listen, you'd better get it here now because Corsi is at the very epicenter.

Mueller's team says he knew too much...

What exactly does Corsi know?

[...]

It was only a matter of time something like this would happen — surely a travesty of justice.

One thing's for sure…

Mueller's office has emails and phone records.

As Corsi has insisted…

He just put all the pieces together, connected all the dots.

Seriously — it's what he does best and anyone who follows Corsi knows this.

Corsi's only "crime" was putting them in a tell-all book.
And, you know, perjury. But Newsmax won't tell you that -- or, again, that it published Corsi's whacked-out conspiracy book.
Posted by Terry K. at 11:29 AM EST