CNS Unemployment Coverage Distortion Watch, Now With Slightly Less Distortion
Topic: CNSNews.com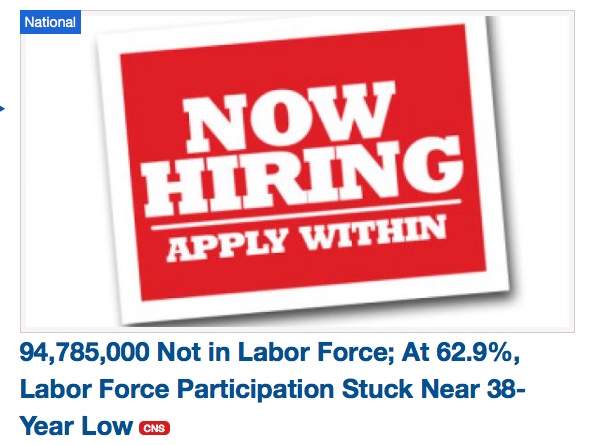 Apparently, even the big Trump flip on unemployment reporting at CNSNews.com -- in which CNS switched from being relentlessly negative under President Obama to relentlessly positive under President Trump despite the jobless numbers trending roughly the same way -- has its limits.
For her main article on August's unemployment numbers, Susan Jones did what she usually did under Obama and has rarely done under Trump -- lead with unpleasant statistics about the relatively low labor force participation rate:
Heading into the Labor Day weekend, the latest jobs report is a disappointment.

Tthe number of Americans over age 16 who are not in the labor force – for whatever reason – remained stubbornly high in August, at 94,785,000. That is partly attributed to the rising number of retirements among Baby Boomers.
Of course, Jones rarely mentioned the Baby Boomer factor in playing guilt-by-assocation in blaming low labor force participation on Obama.
CNS editor in chief Terry Jeffrey contributed his usual article on manufacturing jobs, but he remained on message in dishonestly blaming a decline in them on Obama and crediting Trump's election for an increase:
When Obama was inaugurated in January 2009, there were 12,561,000 people employed in manufacturing in the United States. But in the next month, February 2009, manufacturing employment dropped to 12,380,000. Manufacturing employment would eventually dropped to 11,4530,000 [sic] in February and March of 2010.

Last November, at the time Donald Trump was elected president, there were 12,325,000 employed in manufacturing. That rose to 12,343,000 in December—and since then has climbed to the 12,480,000 it reached in August, an increase of 155,000 since last year's election and 137,000 so far for this calendar year.
Jeffrey doesn't mention that the country was in the middle of a recession when Obama took office, nor does he explain why Obama doesn't get credit for the increase of nearly 2 million manufacturing jobs between the 2010 low and the election (or afterward, since it's unlikely that any action Trump has taken can be directly attributed to the increase).
Jeffrey also contributed his usual article on the number of government jobs. Managing editor Michael W. Chapman added for only the second time under Trump his regular Obama-era feature on black unemployment vs. white unemployment; Chapman finally concedes that high black unemployment is a longtime trend, though he'll only admit that it's been since 2007 (as we've noted, it's been that way since statistics were first compiled in 1972).
Posted by Terry K. at 11:21 PM EDT
Updated: Friday, August 17, 2018 5:30 PM EDT