Irony: CNS Relies on Liberal Media to Cover Hurricane
Topic: CNSNews.com
As much as the Media Research Center loves to bash the "liberal media," its "news" division, CNSNews.com, has relied on it -- for instance, being a longtime subscriber to the Associated Press, which was discontinued earlier this year for unexplained reasons.
CNS' weekend coverage of Hurricane Irma is another example. Now that CNS can no longer repeat the right-wing talking point about the length of time between "major" hurricanes hitting the U.S., it has to find other ways of covering news (and, no, taking stenography from the Trump administration does not count). A Sept. 10 article promised "Live Coverage of Hurricane Irma."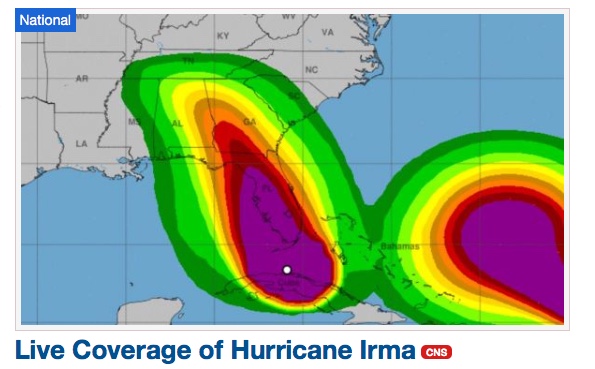 But the article, credited to "CNSNews.com Staff," states only:
For live coverage of Hurricane Irma, you can go to the websites of: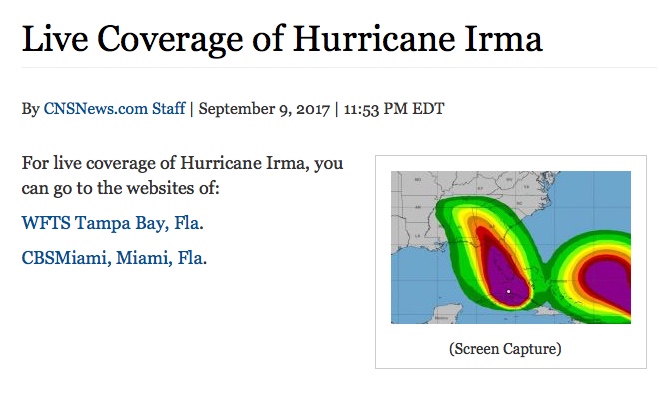 That's right: This right-wing "news" organization must rely on the normally despised "liberal media" -- WTFS is an ABC affiliate, and the Miami TV station linked to above is owned and operated by CBS -- to cover actual news.
Apparently, the MRC doesn't think the evil "liberal media" isn't that evil after all. But will they ever say so in public?
Posted by Terry K. at 7:24 PM EDT