Fake-News Story Still Live And Uncorrected At WND
Topic: WorldNetDaily
On Aug. 20, WorldNetDaily copied-and-pasted an article from an Australian news website (misleadingly credited to the New York Post, which is merely cited in the article) about Joshua Witt, "believes his long-on-top, buzzed-on-the-sides haircut got him mistaken for" a neo-Nazi, "and he was nearly stabbed to death by a confused anti-fascist."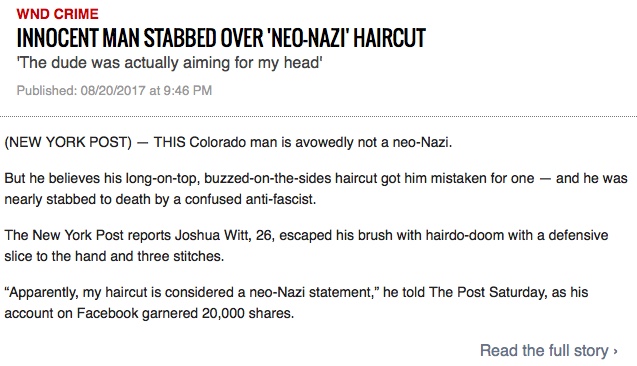 Turns out that's not true. Authorities now say that Witt's knife wounds were self-inflicted, and that he made up the story about being attacked by a protester "with hopes that the Department of Veterans Affairs would pay for his medical bills."
Despite the fact that Witt's faslehood has been exposed for two days now, WND's original copy-and-past job remains on its website live and uncorrected.
WND does have this problem of perpetuating fake news (not to mention generating its own). For instance, a story WND copied-and-pasted onto its website in February about a claim that "dozens of Arab men sexually assaulted female patrons at bars and restaurants in downtown Frankfurt on New Year's Eve 2016" has long been discredited, but it remains live and uncorrected five months later.
Posted by Terry K. at 1:14 AM EDT