MRC Curiously Leaves Megyn Kelly Alone Despite Working for 'Liberal Media'
Topic: Media Research Center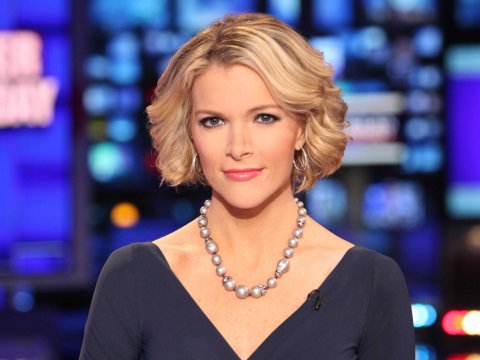 We've noted that when then-Fox News anchor Megyn Kelly asked pointed questions of Donald Trump at a 2015 presidential debate -- which caused Trump to complain about Fox News' bias -- the Media Research Center refused to take a side in the matter, presumably because it neither wanted to offend the network on which its employees appear most often or admit that Trump was right about Fox News' bias (though it eagerly signed on to Trump's "fake news" rants). The MRC effectively let Kelly twist in the wind.
When Kelly bolted Fox News for NBC after the 2016 election, you think the MRC -- freed from having to defend her as a Fox employee -- would take the opportunity to bash her work for the purportedly "liberal" NBC. But it mostly hasn't, even with Kelly providing ample ammunition in the form of low ratings and a controversial interview with Alex Jones, the kind of fringe figure the MRC loves to excoriate the "liberal media" for "mainstreaming" for simply doing stories about.
The lone piece the MRC did on the entire eight-episode summer run of Kelly's NBC was indeed about the Jones segment. A June 18 post by Melissa Mullins, posted before the interview, noted that Kelly "completely reconfigured her Sunday night show by bringing on the families of Sandy Hook and editing her interview to seem tougher on Jones." Mullins wrote at the end of her tepid post, "But I guess we will have to wait and see, when Kelly's interview airs tonight. Or in most cases, wait to hear."
The only follow-up the MRC did on the interview was not about the interview itself, but bashing former NBC anchor Tom Brokaw, who appeared at the end of Kelly's show, for issuing a "liberal lecture" calling conspiracy theorists like Jones a "common threat" against the country. The MRC's Curtis Houck ranted that "Brokaw's two-minute-plus commentary wasn't used to make a broader argument against far-left rhetoric that nearly did the same to Republican congressmen," referring to the shooting of Rep. Steve Scalise.
It seems Kelly has done enough for the conservative movement and the MRC -- remember, the MRC cheered how Kelly insisted against all evidence that Fox News wasn't biased and perpetuated the notion of a "left-leaning bias in news" -- that it will apparently give her a pass on her NBC work.
Posted by Terry K. at 11:37 PM EDT