WND Publishes Another Piece of Fake News
Topic: WorldNetDaily
WorldNetDaily's oddly defensive war over "fake news" is continuing -- the latest is a Feb. 19 article by Chelsea Schilling attacking fact-checking organizations for either calling out WND or failing to be a right-wing group.
One name not on WND's list: ConWebWatch. That's because we back up our work ... and Joseph Farah and Co. know that we can cite chapter and verse of the fake news WND has published.
And -- oh, hey, look, another chapter!
On Feb. 13, WND copied-and-pasted an article from the right-wing Gatestone Institute (which pushes the idea of "civilization jihad" embraced by Muslim-hating WND reporter Leo Hohmann) claiming that "German authorities are investigating reports that dozens of Arab men sexually assaulted female patrons at bars and restaurants in downtown Frankfurt on New Year's Eve 2016" in which "mobs of migrants harassed women in a 'rape game.'"
Just one problem: It didn't happen.
The Washington Post reports that German police found that the allegations were fabricated and possibly driven by anti-immigrant sentiment, and those making the allegations may now face charges.
This story was debunked pretty quickly -- a solid week ago -- yet WND's article remains live and uncorrected as of this writing, and we could find no separate WND article admitting the accusations were bogus. Even the Gatestone Institute article that WND copied-and-pasted has been completely scrubbed of any reference to the alleged incident and is now a lengthy screed about "Germany's Migrant Rape Crisis."
Again, WND's completely discredited article is still live and uncorrected. In case WND does exhibit a trace of journalistic integrity, here's a copy of it: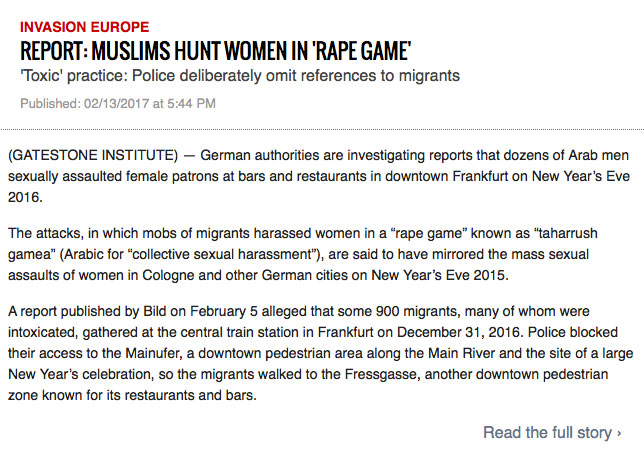 UPDATE: WND columnist Caleb Stephen picked up on the bogus story as well in his Feb. 15 column, asserting that "On New Year's Eve last year, dozens of Muslim men sexually assaulted female patrons at bars and restaurants in downtown Frankfurt, Germany. His column also remains uncorrected.
Posted by Terry K. at 12:11 AM EST
Updated: Wednesday, February 22, 2017 8:49 AM EST