Again! MRC Touts Cruz Regurgitating MRC's Trump-Media Conspiracy Theory
Topic: Media Research Center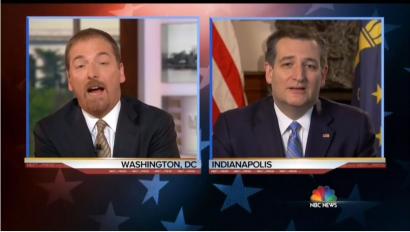 The Media Research Center is very much invested in its conspiracy theory that the "liberal media" is deliberately colluding to make Donald Trump the Republican nominee so he'll be beaten by Hillary in November. So every time Ted Cruz regurgitates said conspiracy theory, the MRC is more than happy to amplify it -- something it has done twice so far.
And the MRC does it again. Nicholas Fondacaro does the honors in a May 1 post:
Sparks flew Sunday on NBC's Meet the Press when Senator Ted Cruz called out the liberal media for their pro-Donald Trump coverage and their biased executives. "The media created this Trump phenomenon and then they don't hold him accountable," said the Senator during a very long heated interview with the host Chuck Todd. An exchange where Todd was visible agitated by what the senator from Texas was saying about his profession.

[...]

Todd wanted to talk about the numbers. So talk about the numbers Cruz did. "Well, actually, with all due respect the media has given $2 billion of free advertising to Donald," stated Cruz. The claim by Cruz can be backed up by a number of Media Research Center studies. In January the MRC found that very little of coverage of Trump was about his very liberal past. An MRC study from February found that Trump was receiving three times the coverage his next two rivals were receiving. The trend sky rocketed in April when the "big three" networks bathed Trump in five times more coverage than his rivals, yet another MRC study found.

[...]

"The media created this Trump phenomenon and then they don't hold him accountable," Cruz continued, "Now, I'm sure the media planned to do so if he's the nominee in general election. Suddenly you'll hear every day about Donald Trump's tax returns."

Many on the right speculate that is what the liberal media has planned for Trump. Citing how the media played nice with John McCain in '08 and Mitt Romney in '12, but then took the gloves off after the Republican National Convention. Although Todd may not like it, Cruz is right to point out that the media does have a bias for Trump. He drives up their ratings and they think Hillary can beat him. What's not to like about him for the media?
Needless to say, neither Cruz nor Fondacaro bfrought up the fact that Fox News -- definitely not part of the "liberal media" -- has been the biggest Trump booster of them all. Wouldn't want to ruin a perfectly good conspiracy theory, after all.
Cruz, however, did criticize Fox News' obsession with Trump a couple days later, declaring that "Rupert Murdoch and Roger Ailes at Fox News have turned Fox News into the Donald Trump network, 24/7." But you won't find that clip anywhere at the MRC.
Posted by Terry K. at 4:01 PM EDT